See How Luxury Retailer Barney's Is Making A Major Play For Streetwear
The drop is about to be lit.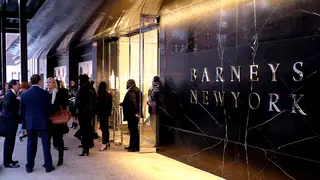 Barneys New York, in partnership with Highsnobiety, announced the "thedrop@barneys," a first-of-its-kind two-day event that will feature 30 exclusive capsule collection and product "drops," designer appearances, unique in-store activations and programming featuring some of today's dopest names in fashion. 
"Barneys New York has always been known as a place for the convergence of entertainment, exclusive designer collaboration and unique experiences," said Daniella Vitale, chief executive officer & president, Barneys New York. "With thedrop@barneys, we are introducing a whole new concept – blending exclusive launches from the best new designers, one-of-a-kind experiences, compelling content, food and music, giving our customer a new and innovative way to explore and experience Barneys."
"Today's fashion culture revolves around newness, exclusivity and experience," said Jeff Carvalho, managing director, Highsnobiety. "We're excited to partner with Barneys New York on thedrop@barneys to give fashion enthusiasts a fresh way to interact with the brands and designers they follow."
thedrop@barneys will take place at Barneys New York's Madison Avenue flagship in New York City on October 28 & 29, and on Barneys.com.  On day one, October 28, Barneys New York will release nine major collections in store throughout the day via various "drops", along with personal appearances from designers, including: Virgil Abloh of Off-White, Mike Amiri of Amiri, Heron Preston, Faith Connexion, Marcelo Burlon, Greg Lauren, Francesco Ragazzi of Palm Angels, Ben Taverniti of Unravel Project, and Jerry Lorenzo of FEAR OF GOD. So if you in the New York area, you definitely want to stop in and check them out!
These collections are part of thedrop@barneys' 30 designer launches available at its Madison Avenue flagship, as well as on Barneys.com. Other exclusive releases include Gucci, Alpha Industries and Alexander Wang, and more. With the holidays around the corner, this will be your chance to get some exclusive gift pieces.
On day two, October 29, Highsnobiety and Barneys New York will host a livestreamed panel discussions at it Madison Avenue flagship, featuring a variety of designers, influencers and fashion industry insiders. Tariq "Black Thought" Trotter of The Roots, will be there as well doing a special signing for customers.
Throughout the weekend, Barneys New York will host more than 80 designers and vendors with more than 40 activations including: a T-shirt bar and Off-White's Virgil Abloh, a curated space by FEAR OF GOD's Jerry Lorenzo, a custom FILA immersive installation, and tattoos from celebrity tattoo artist Jonboy. Be sure to check them out!