Reclaim Your Vote 2023: Black To the Ballot Box
On National Black Voter's Day and beyond, BET will take a non-partisan look at the midterm elections through the eyes of Black voters.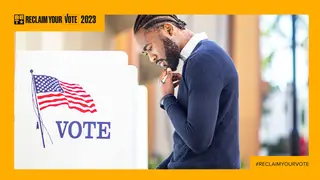 When you think about Black people, the right to vote and how it's exercised, chances are that Perth Amboy, N.J. isn't the first place that comes to mind.
But on March 31, 1870, Thomas Mundy Peterson became the first Black person to cast a ballot under the United States Constitution's 15th Amendment, which allowed U.S. citizens the right to vote regardless of race. The amendment itself had only been ratified in February of that year and restored a right to Black property owners and residents in New Jersey that had been taken away in 1807.
Despite it being a northern state, New Jersey was far from progressive when it came to the Black community of that time. Although there were communities of free Blacks in South Jersey, the state legislature had rejected the 13th Amendment abolishing slavery, as well as the 15th Amendment before its ratification and certification.
There are three reasons why this bit of New Jersey's African American history is an important part of the stories BET will tell in our Reclaim Your Vote series during the 2023 elections.
First, today is National Black Voter Day, a joint effort between BET, the National Urban League, When We All Vote and Fair Fight Action to encourage people to make sure that their voter registration is up to date and to make a plan for their families to head to the polls.
Also, for Peterson to be able to enter that voting booth in Perth Amboy took a Constitutional amendment. But despite the ratification of the 15th Amendment, African Americans still struggle to be able to vote fairly and consistently. We have had to lean on constant activism and legislation for the ability to exercise our civic duty.
Finally, New Jersey is one of the seven states with significant Black populations that will be featured as part of Reclaim Your Vote.
As a part of this series, we'll be looking at the issues impacting voters in these states. New Jersey is among the states where parental rights and gender identification are on the ballot as part of school board elections. Residents will also ask legislative candidates vying for seats in the state assembly and state senate how they feel about the prospect of wind farm development along the Jersey coastline.
Some states – including Kentucky, Louisiana, and Mississippi – will elect governors. Pennsylvanians will elect members of the statewide judiciary and Philadelphia, the state's largest city, might elect  Cherelle Parker, its first Black woman mayor. Reproductive freedom and recreational cannabis are on the ballot in Ohio, while Texas voters will be deciding control of local school boards.
According to the Pew Research Center, the population of African Americans eligible to vote was projected to reach 32.7 million in 2022. But turnout in off-year elections, like the ones this year, is often low. For example, only 26% of eligible voters in Philadelphia, which voted for candidates for mayor and city council, came to the polls in the May 16 Pennsylvania primary.
Because most of the 2023 elections are local and have the most direct impact on state residents, getting people to the polls is important, said Philadelphia City Commissioner Omar Sabir.
"During the May 16 primary, we beat the national average in turnout, which is in the 20s for municipal elections," Sabir said. "Low turnout in municipal elections isn't just a Philadelphia issue, it's a national issue."
Over the next few weeks, we'll be talking to activists, candidates and, most importantly, voters about the 2023 elections. We'll learn if they think we're talking about the issues most important to them, why getting people to the polls in elections that don't involve federal office appears to be so hard and how successful organizations are managing a climate in which the very system of voting itself is being challenged.
There will also be a chance for you, the voter, to exercise your power through a weekly call to action designed to help you help others find their way to the polls.
Next week, we'll begin with Louisiana, where the primary elections will be held on Oct. 14 and statewide elections on Nov. 18.