Cardi B Speaks To BET.com About The Debut Of Her Show 'Cardi Tries' And Why Trying New Hobbies Became An Adventure To Remember
Watch an exclusive clip from the show premiering on Messenger's Watch Together and find out why Cardi has made it her mission to make people laugh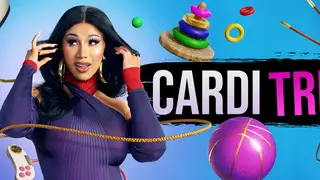 Grammy-winning artist, Cardi B, has become a mainstream sensation from her mega anthem hits to her outspoken and uncut takes on social justice and political movements to collaborating with major brands like Reebok and Fashion Nova. Despite the unpredictable moments of 2020, Cardi B continues to blossom, giving us a shining light in what has been a very dark tunnel for many. 
Her next project takes Cardi and her fans on a wild and adventurous ride with the release of a new show titled Messenger Presents, "Cardi Tries___"  scheduled to air weekly for an eight episode run starting Thursday (Dec. 17). The show will feature a lineup of celebrity guests including actress Michelle Rodriguez, director, producer, choreographer Debbie Allen, and NBA all-star Damian Lillard and run on Facebook's new Messenger Watch Together feature on the app which allows users to watch movies and TV shows with friends over video chat.  
"I just really want people to have a good time watching this show, bring happiness, bring smiles, bring laughter. 2020 has been a very dry, sad ass, f***ing year for everybody," said Cardi in an interview with BET.com.
The Bronx-born rapper will try her hand at becoming an expert in professions that completely take her out of her comfort zone and into unchartered territory. From finding herself in a dance studio, learning the finer details of classic ballet to understanding the nuances of working on a ranch to getting behind the wheel to do stunt car racing, Cardi B's candid efforts showcases her good natured, comedic side. Most of all, Cardi proves that even if you're not good at something, trying it just once is all that really matters. 
BET.com chatted with the 2020 Billboard Woman of the Year to take a look back on her triumphant wins, talk about her new show and give us the inside scoop on what she's cooking up in the studio as we all eagerly await 2021.
BET.com: You have always been unapologetically yourself and in your new show, "Cardi Tries__", the first episode has you trying ballet at the critically-acclaimed Debbie Allen Dance Academy as Ms. Allen herself tries to teach you the fundamentals. 
You pushed yourself outside of your comfort zone and into spaces that your fans wouldn't normally see you in. What does this show mean to you and what do you hope it means to your fans?
Cardi B: Even if you had a good year when it comes to money, a job, or if you had a baby, there was just a lot of sadness to see people dying with coronavirus. Seeing a lot people sick and seeing a lot people losing they jobs. [And] a lot of artists getting their lives taken from them. I just want this show to bring a little bit of happiness and good humor to everybody.
BET.com: Was there anything on "Cardi Tries__" that the producers proposed for you to do and you said, hell to the no?
Cardi B: I was just a little bit uncomfortable when I was riding a horse during one of the episodes. That made me a little bit uncomfortable because, yes, it's scary. I still did it anyways. And you know, when it came to driving -- like when it comes to driving fast, I was a little bit scared because I don't even know how to drive. So, like racing and s**t, that freaked me out a little bit, but it was still fun.
BET.com: "WAP" became an anthem for a lot of women in 2020 and you have given your fans anthems dating back to your breakout single "Bodak Yellow". Do you have anything in the works that could be the new anthem for women in 2021?
Cardi B: I didn't know that WAP was going to be a female anthem. I just thought it was just a song. I have a lot of those songs. And who knows, maybe the next song might be a female anthem or maybe it won't. 
BET.com: Congratulations, by the way, on winning Billboard's Woman of the Year award. What do you think you learned about yourself this year that makes you a different woman from last year?
Cardi B: It's not that I did not learn anything about myself, I learned more about other people like I just learned the industry even more. I see how funny people could be. And, I also learned how not be discouraged when you're doing certain things. I feel like a lot of people was clowning me when I was sitting down with Joe Biden. Or when I kept bringing light to what's happening with the discrimination and the police. And when I was sitting down with Bernie. 
You know, people were just saying 'Why is she representing us? Who the f*** she think she is? Oh, she's dumb, she's illiterate. Why is she sitting down with people?' And it almost makes you feel like 'Why the f**k am I doing this?' Because I am doing this for the people. I'm doing this to make a difference. I'm not even getting paid for this and I love to get paid. I'm doing this because I want to do it, I'm a Libra, I'm a natural humanitarian. 
A lot of people want to say, 'That's why she's the Woman of the Year for Billboard,' because while everybody was just focusing on themselves, I was focusing for everybody. 
Watch an exclusive clip from episode one of Cardi B's new show Messenger Presents, "Cardi Tries___" below:
Bardigang can watch "Cardi Tries__" on Messenger's new Watch Together feature, available on Messenger, Messenger Rooms and now on Instagram. Fans can watch each episode by starting a video call in Messenger, Instagram or by creating a private room using the Messenger Room function. On Messenger, you can swipe up in your video call to access the Watch Together menu, then select the "TV & Movies" tab and select "Cardi Tries__." 
If you prefer to use Instagram, tap the media button in the bottom right and select the 'TV & Movies' tab. From there, pick whatever fancies your interests, including Cardi's new show.