24-Year-Old Inmate Dies at Fulton County Jail, Becoming 10th Death This Year
Shawndre Delmore had been in the jail since April 1 held on a $2,500 bond for a burglary charge.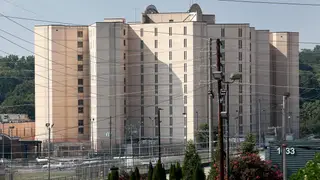 Another inmate has died at the Fulton County Jail, which is the sixth inmate death reported at the jail in six weeks.

24-year-old Shawndre Delmore was found unresponsive in his cell on Aug. 31. He was transported to Grady Memorial Hospital where he remained unresponsive and died on Sept. 3.
Delmore was booked into the jail on April 1. According to WSB-TV, records show Delmore was arrested for burglary and willful obstruction of law enforcement officers.
Delmore was being held on a $2,500 bond for the burglary charge at the Fulton County Jail, with a signature bond for the obstruction charge.
Six inmates have died in Fulton County Jail since July. And ten inmates have died in total this year. The jail is currently under a federal investigation, which started this summer.
"The family is devastated by this loss," Delmore's family attorney Mawuli Davis said in a statement, according to 11 Alive. "We are committed to doing whatever is necessary to help this family get the answers they deserve so they can begin to grieve."
"My son did not deserve to die like this. He had his whole life ahead of him. I wasn't expecting to see my son in the condition he was in," said Natasha Holoman, his mother.
His grandmother, Patricia Delmore, said that Shawndre was loving and compassionate.
"He had a great smile and he would do anything for anyone. It's unfortunate that this has happened to him. We would like to know why," his grandmother said.
An autopsy will be conducted to find out Delmore's cause of death.
The Fulton County Jail made national news earlier this year when the family of a 35-year-old man named Lashawn Thompson alleged that he died after being "eaten alive" by bedbugs while in the jail. Fulton County reached a $4 million settlement with Thompson's family.