What You Should Know About Atlanta-Area Prosecutor Fani Willis Who Seeks Multiple Indictments Against Trump
After making history in Georgia, the daughter of a former Black Panther finds herself in the national spotlight.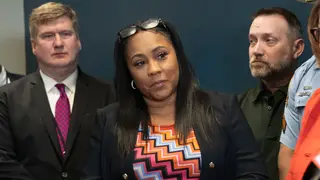 It appears that a fourth indictment against Donald Trump is on the horizon, as Fulton County, Ga., District Attorney Fani Willis pursues criminal charges against the former president for allegedly attempting to overturn the 2020 presidential election results in Georgia.
CNN reported Wednesday (Aug. 9) that Willis is expected to seek more than a dozen indictments before a grand jury next week. Meanwhile, Trump and those who allegedly aided his plot believe they will be charged soon with criminal offenses.
In an infamous phone call in January 2021, Trump pressured Georgia Secretary of State Brad Raffensperger, a fellow Republican, to "find" enough votes to overturn President Joe Biden's election victory in Georgia, the Associated Press reported in 2021.
"All I want to do is this. I just want to find 11,780 votes, which is one more than we have because we won the state," Trump is heard telling Raffensperger in the recorded conversation.
Willis is considering conspiracy and racketeering charges against Trump and his alleged co-conspirators. Her criminal investigation focuses on pressuring election officials and scheming to put forward fake electors, among other possible criminal acts.
Trump has tried to deride her, alleging that she had a relationship with a past client in a campaign ad. Willis flatly denied the allegation, calling them derogatory and false and instructing her staff not to even dignify it with a response.

"You may not comment in any way on the ad or any of the negativity that may be expressed against me, your colleagues, this office in the coming days, weeks or months," Willis wrote in a Wednesday email to staffers, according to The Atlanta Journal-Constitution.  "We have no personal feelings against those we investigate or prosecute and we should not express any."
Before stepping onto the national stage, Willis made history in 2021 when she became the first Black woman to lead Georgia's largest district attorney's office. In a landslide victory, Willis defeated her former boss, incumbent Paul Howard Jr., who had been DA since 1997, in the Democratic primary runoff in August 2020, Atlanta station WSB reported.
The mother of two daughters graduated from Howard University in 1992 before earning her law degree from Emory University in 1996, South Atlanta Magazine reported in a post on the Fulton County government website. In her career, which includes private practice, Willis has led more than 100 jury trials over two decades as a prosecutor, The New York Times reported. As D.A., her office has close to a 90 percent conviction rate.
She is Fulton County's first woman district attorney, but prior to that, she opened her own firm, The Offices of Fani T. Willis, LLC., in Atlanta, which specializes in criminal defense and family law, with fathers' rights as a particular concentration, according to South Atlanta Magazine.
Willis said there was never a doubt in her mind that she would become a lawyer. Her father, a former Black Panther member, was a defense lawyer in the Washington, D.C. area. She recalled that he gave her a file clerk job when she was a child. Her dad also named her.

"So, my father was a Black Panther, so he was very Afrocentric… my name is Swahili. Fani actually means 'prosperous,' and Taifa (her middle name)means 'people'," she told the magazine.
"I always knew that I wanted to be the district attorney, but in my mind, I would never run against the sitting DA… but the cries got louder and louder and louder… and I just took the leap of faith and did what God called me to do.'