H&M Slammed After Humiliated Black Woman Was Accused Of Stealing Earrings She Just Purchased
Daniela Taylor said the officer told her she was "going to jail."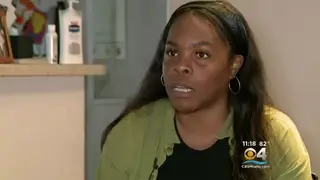 H&M is in hot water after a security officer falsely accused a Black woman shoplifting from a Miami location.
Daniela Taylor visited an H&M store at Pembroke Lakes Mall on Tuesday to return a pair of earrings. While she was at the store, she decided to buy another pair; however, when she exited the store, she was immediately approached by two loss prevention officers, reported CBS News.
"It was a Black thing. Period. I wasn't the only person in there. Why me?" Taylor told CBS News.
Daniela said the officer accused her of stealing in front of everyone.
"He's like, 'That's it. You're going to jail.' I'm like, 'but for what?'" asked Daniela.
Daniela, who was very upset by the allegation, says she was most upset that one of the officers was also Black.
"I'm cursing because obviously I have already told him I didn't do anything. I said, 'You should understand where I'm coming from. If you were on the other end of the table, you should understand how they do us these days.' He said, 'Don't pull the race card on me,'" said Taylor.
Eventually, the loss prevention officers watched the security footage and determined Daniela had not stolen anything.
Although she says the loss prevention officer apologized to her, she wants more than that from H&M.
"They need to be better at who they hire. They really need to look into people and do the extensive training that needs to be done," said Taylor.
H&M released the following statement:
"We are aware of the incident that took place in our Pembroke Lakes Mall location. Unfortunately this was a misunderstanding and we are sorry. We have since let go of the third party security company that was involved and we are reviewing our internal procedures to make sure this type of incident does not happen again and that our routines are properly followed. We will be getting in touch with the customer to follow up on the steps we have taken."