Here's How Paula Patton Allegedly Reacted to Robin Thicke's Baby News
The singer and his 22-year-old girlfriend are expecting.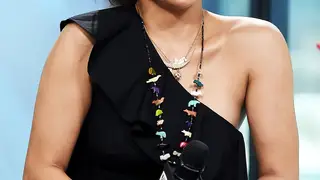 Robin Thicke is gearing up to becoming a second-time father as he and his young adult girlfriend, April Love Geary, recently announced they are expecting. While the couple is said to be "very excited" about this news, one person who is reportedly not on board the baby train is the singer's ex-wife Paula Patton.
According to Radar Online, Paula is not April's biggest fan and is furious that her ex-husband has decided to make their relationship permanent by having a child with her.
"Paula hates April, and always has," an insider told the publication. "April has rubbed her relationship in her face, and Paula refuses to accept her, or even acknowledge her."
One person who reportedly was very fond of April, however, was the "Lost Without U" singer's late father Alan Thicke, who allegedly advocated for her relationship with his son before his passing.
"Alan loved April, and she loved him," the source added. "He told Robin before he died that April is a keeper. Robin knows this and he absolutely loves April. He's spent millions to keep her happy."
Catch up on baby mama drama with BET Breaks, above.