Rae Sremmurd Photo With Sidney Starr Starts Fan Beef
Swae Lee blasted for calling transgender web celeb a "man."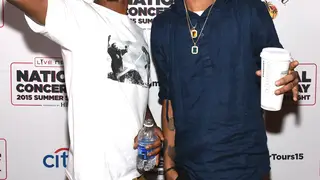 Rae Sremmurd may have declared that they didn't have a type, but Swae Lee of the famous duo might be reconsidering.
After posing for snapshot with Sidney Starr, a self-proclaimed Internet celebrity transgender woman linked to a slew of rappers (most popularly Chingy), Lee sounded off for anyone who thought it was anything more than a photo, including a gossip site that tried to insinuate the 20-year old was into the woman.
Under an IG post with a pic of Starr, the young "No Flex Zone" rapper wrote, "If you see us and we don't want to stop or take a picture, this is why. This is a man. I was stopping to take a picture with a fan. Don't get it misconstrued @balleralert."
Unfortunately for Lee, every story has two sides. And Starr's close gal pal, couldn't sit back while only one side was told. Commenting boldly under his post, Shauna Brooks clapped back at Lee asking that the least he could do is properly acknowldge Starr as trangender and not a man because "that night yall was not calling [Sidney] a man."
BET.com is your No. 1 source for Black celebrity news, photos, exclusive videos and all the latest in the world of hip hop and R&B music.  
See the IGs and the Real Husbands Of Hollywood Sneak Peek Rewind! Kevin 'Hearts' LGBT below.
(Photo: Jamie McCarthy/Getty Images for Live Nation)