Rich Homie Quan Finally Speaks Up About Forgetting Biggie's Lyrics
He had an embarrassing brain freeze on stage at VH1 Hip Hop Honors last night.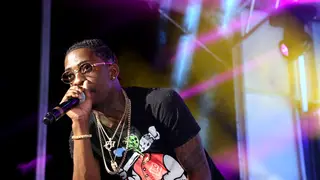 UPDATE: Lil' Kim, who performed Biggie's "Get Money" on stage alongside Rich Homie Quan, has reacted to his blundering of the lyrics to the song during their tribute set at the VH1 Hip Hop Honors.
The rap goddess took to Instagram yesterday (July 12) and says she only has love for RHQ and believes he meant no harm in forgetting the lyrics. "I loved you before and I'm gonna love you after Rich Homie," she captioned in a pic of the Atlanta rapper. "People make mistakes and things happen sometimes that we can't fix or undo. If you guys only knew the technical difficulties that went on behind the scenes. I would like to thank my friend @richhomiequan for coming through for me at the last minute."
Check out her Instagram post about RHQ below.
___________________________________________________________________
Rich Homie Quan has faced quite a bit of backlash after flubbing some Notorious B.I.G. lyrics during the Lil Kim tribute at the VH1 Hip Hop Honors last night.
The rapper has now taken to Instagram to pen a heartfelt apology that should satisfy some of the disgruntled fans.
Immediately after the on-stage gaffe, fans flooded Twitter to express their anger:
After the dust settled a bit, RHQ posted to his Instagram. "I assure you that I never intended to disrespect Biggie Smalls," he captioned a post on Tuesday. "I have long respected his work and his contribution to the rap game." He continued, "I will forever be sorry to New York, my fans, Biggie Small, Lil Kim, and all the Hip Hop community for my performance. I hope you can accept my apology. To Lil Kim, Thank you for the opportunity."
He seems to be keeping it 100 but some fans will likely never forget the night Rich Homie Quan tried, and failed, to impersonate Biggie.