See Serena Williams And Baby Alexis Make History On The February Cover Of 'Vogue'
With the snapback in full effect, she is red hot.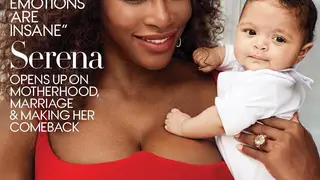 It's hard to ignore that Serena Williams has been absolutely glowing since giving birth to her baby girl, Alexis Olympia Ohanian Jr., with hubby, Alexis Ohanian Sr.! 
Her life completely revolves around her baby — and rightly so!
Nowadays, the first-time mother, who had an emergency C-section due to her baby girl's low heart rate during contraction, keeps her Instagram filled with baby candids, crowdsources mom advice about teething on social media and now she's covering Vogue magazine with her mini-me.  
Serena stands simplistically styled in a red Versace tank while holding her bundle of joy, who's adorably dressed in a white onesie, for the February cover.
With already 206K followers on Instagram, it is clear that baby Olympia is a star alongside her mommy. "We're not spending a day apart until she's eighteen," Serena shared, only half-jokingly to Vogue about baby Olympia.  
It's not all fun and games though, "Sometimes I get really down and feel like, 'Man, I can't do this,'" Williams explained. "It's that same negative attitude I have on the court sometimes. I guess that's just who I am. No one talks about the low moments — the pressure you feel, the incredible letdown every time you hear the baby cry. I've broken down I don't know how many times. Or I'll get angry about the crying, then sad about being angry, and then guilty, like, 'Why do I feel so sad when I have a beautiful baby?' The emotions are insane."
Although Williams is still healing from the C-section, which left her bedridden for six weeks after the wound popped open, don't think the 36-year-old professional tennis athlete isn't still light on her feet.
Catch how she moves her bawdy for the #LemonDanceChallenge to N.E.R.D.'s single "Lemon" featuring Rihanna:
This here ain't a scrimmage. Our girl is back and better than ever!