Meek Mill & Rick Ross Discuss Overcoming Substance Abuse
The MMG duo spoke with Apple Music about the habit that got out of hand.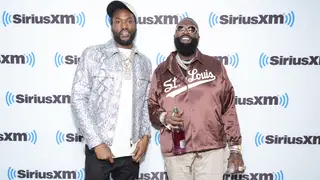 Rick Ross and Meek Mill are opening up about substance abuse issues they had and how they were able to get back on track.
Speaking with Apple Music's Rap Life Radio With Ebro Darden, the pair of Maybach Music Group rappers detailed how their health was starting to deteriorate initially.
"My stomach was bent over for like a year and a half," the Philly rapper described. "I came home, 2019, I couldn't smoke weed or really drink liquor like that. Before 2019, I was off the lean and all that. I changed my lifestyle — well, I thought I changed. Tried to change over to the liquor every day 'cause I'm being on tour, [after-parties]. That s**t kind of ruined my stomach, so I had to sit down for a minute, let my s**t build up."
"That was another human trial that we go through on the inside and then it's like, 'Yo, when you dropping?' I'm telling my own family, 'Yo, my stomach f****d up. I weigh 170. I'm hit right now!'" Meek added. "But people wasn't seeing it, though. People will see it or might make a joke about it, but in real life like, yo, my s**t f**ked up."
Then, Rick Ross relayed his struggles with lean and how seeing his artist struggle with substance abuse made him reflect on his issues.
"That being little bro, it could be something that you walk into the studio, you walk into your homie, and you see your homie not all the way on his 'A' game," said Rozay. "That's one of the things that me and Meek most definitely had conversations about — vice versa, though."
The MMG boss continued: "Me drinking lean at a time and now, I'm taking medication two times a day because of this. And then you walk into a session, you see your little bro, 'Aye, man, we gotta tighten up on this s**t.' It's a lot of different ways we can have issues, or back and forth, but we always got the money."
Also, during the interview, Meek Mill and Rick Ross promoted their new single "Shaq & Kobe" and teased that fans can expect more from where that came from.
Watch the full interview below.