Black Music Month: Five Legendary House DJs You Should Know
From icons who paved the way like DJ Frankie Knuckles to current turntable geniuses like DJ MikeQ.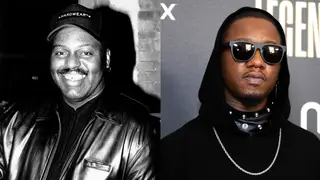 As we celebrate Black Music Month and LGBT Pride Month, let us pay tribute to the pioneers and trailblazers who gifted the world with the infectious beats of house music. As house music is experiencing a resurgence in the mainstream, it's important to remember where house began -- decades ago in Black queer clubs. Over the years, house music continues to evolve, thrive, and inspire new generations, carrying on the legacy of its roots while pushing boundaries and breaking down barriers.
So, whether you're on a crowded dance floor, grooving in your living room, or listening on your phone, take a moment to appreciate the magic of house, a testament to the enduring spirit of Black musical innovation and a soundtrack for liberation, love, and unity.
DJ MikeQ

DJ MikeQ was immersed in the ballroom scene in NYC's tri-state area, where vogueing and ballroom battles took center stage. The Newark, New Jersey native DJ'ed at various ballroom events and clubs, eventually becoming the main DJ for HBO Max's hit series Legendary. MikeQ became one of the first house DJs on a major television series. In addition to his DJing prowess, MikeQ founded Qween Beat Productions, a record label that released music rooted in ballroom and vogue culture. 

No one slays a beat like DJ MikeQ and the people who came before him -- like DJ Frankie Knuckles and DJ Larry Levan -- would certainly be proud. Listen to a MikeQ set from 2022 above.

DJ Paulie Paul

Philly's own DJ Paulie Paul has been spinning for over three decades -- he is the sound of house in the City of Brotherly Love. 

Originally from North Philly, Paul developed a cult following as a DJ at the legendary Nile house club in the 1990s, including the late-great DJ Donald Stone and another music master gone too soon, DJ George. Known for his seamless mixing and ability to respond to the crowd's energy, Paul crafts unforgettable experiences on the dance floor. From vogue beats to tribal rhythms, if you are in Philadelphia, be sure to catch a DJ Paulie Paul set. In the meantime, listen above. 

DJ Larry Levan

In the 1970s and 1980s, DJ Larry Levan's residency at the Paradise Garage, a legendary nightclub in Manhattan, became an iconic hub for house music enthusiasts. Levan's musical sensibilities extended beyond the DJ booth. He was also an accomplished producer, remixing tracks for artists such as Grace Jones, Inner Life, and Gwen Guthrie, infusing their music with his distinctive touch. Larry Levan's impact on the house music genre cannot be overstated. Though he left this world in 1992 at only 38 years old, his legacy is forever etched in the annals of dance music history. Listen to a vintage mix from 1979.

DJ Ron Hardy

DJ Ron Hardy is a true pioneer of the Chicago house sound. His distinct style, unyielding passion for music, allowed him to connect to house heads and shape the evolution of house music worldwide. Ron Hardy's name remains synonymous with  the relentless pursuit of sonic exploration that defines the spirit of house music. He passed away in 1992 at 33 years old. Listen to a classic mix from 1986 above.

DJ Frankie Knuckles

Born in 1959, the pioneering DJ began his career spinning soul, disco, and R&B music at clubs in New York City. He relocated to Chicago and was soon coined the Godfather of House.  In 1997, Frankie Knuckles won a Grammy in the Remixer of the Year, Non-Classical category, and in 2004 a street in Chicago was renamed Frankie Knuckles Way. The following year, Knuckles was inducted into the Dance Music Hall of Fame. He passed away in 2014 at 59 years old but his legacy in house music is immortal. Knuckles mastered the resilience, creativity, and cultural significance that this genre represents. Listen to his set from  2013 above. 

Happy Pride and happy Black Music Month!