Food Network Star Sunny Anderson Opens Up About Ulcerative Colitis and How Her Recipes Can Help Others
The celeb chef hopes to inspire others with new recipe collaboration with Pfizer.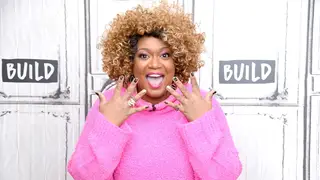 Sunny Anderson is a fan-favorite on Food Network. The chef/judge brings authenticity and fun to almost every appearance.
Most recently, Anderson has opened up about her physical health challenges—including some centered on food.
"The best strategy for me in the beginning was knowing I knew nothing," Sunny Anderson said, learning all she could about her gastrointestinal condition.
The 48-year-old chef told PEOPLE that she worked on a dietary plan with her doctors to manage ulcerative colitis—a digestive illness that affects more than 1.25 million Americans.
"Very early on, my doctors were really keen at telling me to keep a notebook of what I was eating and then how my body felt after I ate," she said.
"I started noticing certain things that I wanted to do or really stay away from, or different ways I wanted to prepare food. That was when I was 19. I'm 48 now, so I don't even think about it. I just cook the way I cook, and thankfully it's worked out."
Anderson has recently partnered with Pfizer to help others who live with UC manage the illness with a website called " This Is Living with UC," as well as other resources to help lessen the impact on mental, emotional, and social well-being.
Anderson has simple words of advice for others suffering from digestive illnesses. At the same time, she explained that early in her diagnosis, she navigated it blindly. "I think the best strategy for me in the beginning was knowing I knew nothing and being okay with being dumb and asking all the questions," Anderson said. "I think in general, with anything in life, people want to pretend that they know stuff or feel embarrassed that they don't know everything.
"You're not alone. It's okay to talk to others about it," she says. "There's nothing to be embarrassed about. The more people you can talk to about it, you'll find your community and feel a lot more comfortable getting it off your chest. And then also, other people will be educated by it."