Ryan Coogler Recommends All Aspiring Filmmakers Watch This Movie
The Creed director inspires us with a passionate speech.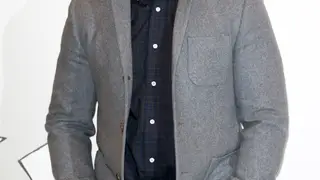 Director Ryan Coogler, who has gained praise for his films Fruitvale Station and Creed, gave an impassioned speech at the annual LA Film Critics Awards dinner following his receiving the New Generation Award. He spoke about the importance of film critics to the industry, and revealed how a critic from Variety helped him discover the film that continues to inspire him today.
Coogler began his speech by telling a story about his first experience encountering the world of film criticism, "when I was in film school, I was from Oakland, I had never been out of the country, I made a short film that got accepted to the small program at the Cannes film festival," he began. Coogler went on to tell the audience that his professors lent him money so that he could buy a plane ticket, and rent a cheap tuxedo to make the trip.
While at Cannes, Coogler explained that he would, "go to Variety's workshop and I would just kind of hang out there…and when I would be in there I would see people come in and out working. But it was this guy who would be going crazy on his laptop...he looked different than everybody else in the room because he was Asian." 
The man he saw writing with a passion equal to his own was Variety's chief film critic Justin Chang. Coogler recognized that it was first time he had ever seen a critic work, and he was amazed by Chang's tenacity. He vowed to read the critic's reviews, and discovered one of the films he was writing so furiously about was A Prophet.
"While I was reading his review I realized, this dude is crazy talented. This is artistry, how his guy is putting words together, I had a newfound respect for what it is that you guys do and its importance to the media," he says. "And then I saw A Prophet and it blew me away. To this day its my favorite movie."  He then turns back to Creed star Michael B. Jordan and asks him how many times he has made Jordan watch the film with him, adding that A Prophet is the film he returns to every time he needs to be inspired creatively.
Coogler thanks the film critics in the audience saying, "You guys are kind of like our twin siblings that you love filmmaking as much as filmmakers." He then said, "but I also have a challenge for you guys too, because you gave me this challenge right here," as he raised his award. "Reach back out into the community and find the next Justin Chang. Find the diversity, find all those voices that are in those places that you might not think to look." 
Watch the director's inspiring speech in its entirety, below:
(Photos from top: Tim P. Whitby/Getty Images for Sundance London, UGC Distribution)
BET.com is your No. 1 source for Black celebrity news, photos, exclusive videos and all the latest in the world of hip hop and R&B music.