Seahawks' Tyler Lockett Reveals He's A Virgin
The NFL wide receiver opened up in his new poetry book, "Reflections."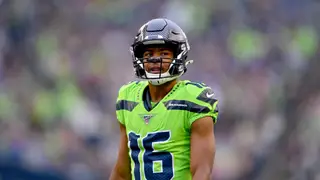 Tyler Lockett is an all-pro kick returner and wide receiver. Tyler Lockett is also a virgin. 
Lockett was promoting his new book of poetry, Reflections, when Schefter asked him about a specific poem where Lockett reveals he is a virgin. 
"I'm waiting till I get married," said Lockett. "It's something that I wanted to be able to do."
The 27-year-old plays in the NFL and his a millionaire. No doubt the carnal temptations are ever present, but he is strong in his faith. 
"I have a girlfriend and she understands what I'm about and loves God as well. She's cool with being able to wait until marriage. So, for me, as long as somebody understands what they're getting into and respects it, that's all that matters. I think this is a healthier way for me to be able to go about that. I listen to my friends and stuff, and they tell me they wish they didn't do it."
To each his own, and kudos to Lockett for standing by the courage of his conviction and adhering to something he truly believes. 
This likely isn't news to his teammates, but in the macho culture of the NFL, he will definitely hear about this revelation from other players.