Nicki Minaj Drops a Major Clue About Meek Mill Engagement
Plus, the rapper reveals why she refuses to twerk on screen.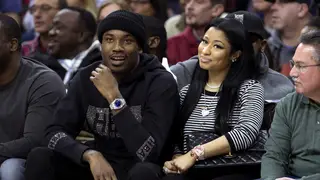 Nicki Minaj loves to tease us about her relationship status with Meek Mill, probably because she thinks it's none of our business. But the femcee decided that she's finally ready to address some of the rumors about their romance in a new interview with NYLON. 
The rapper — who is transitioning to actress and executive producer with an upcoming role in Barbershop 3 and an ABC Family series about her childhood — tells us exactly what's going on with those rings Meek put on her finger last year, and the specific clue to look out for that will let us know the hip hop couple are engaged for real.
"I'm not engaged yet.… He said that my third ring would be my engagement ring," she reveals. "But sometimes he calls me his fiancée, and I'm always trying to stop him, like, 'Nope! I ain't got that third ring yet!' We're just taking it one step at a time. And, you know, if that happens, if I get married, then I'll have a child, and that'll be fun, because I can't wait to hold my baby."
Nicki also talks about her role in the upcoming film Barbershop 3 and how she's resisting the urge to resort to her usual bag of tricks to play the role of a beautician. "I wanted there to be a little bit of depth to Draya," she says. "I didn't want her just to be, you know, an Instagram thot; I wanted her to have some sort of purpose and meaning."
She's so committed, in fact, to being taken seriously as an actress and cautious of how she represents women on the big screen that she flat-out refused producer's requests to put her best "assets" on display for the film. "Not every sexy woman is out here twerking all damn day," she says.
The cover story is full of more insight into Nicki's life and mind, including the new direction she's taking with her music and the Hollywood women whose path she's trying to follow. Click here to read more and catch up on the Omeeka engagement rumors with BET Breaks below:
BET.com is your No. 1 source for Black celebrity news, photos, exclusive videos and all the latest in the world of hip hop and R&B music.