Chris Tucker Once Had A Private Jet Go Back To New York From L.A. Just To Meet Michael Jackson
The famed actor/comedian recently told GQ the incredible story.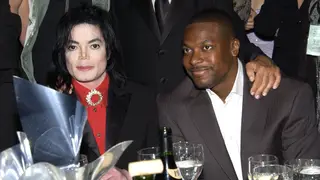 Chris Tucker recently revealed that he once had a private jet he flew in reverse its course to meet up with Michael Jackson.
During an interview with GQ, the actor and comedian noted how he was provided an opportunity to meet the King of Pop after he rose to fame primarily through the Rush Hour franchise.
"I was in New York for two days waiting to meet MJ," Tucker told the publication. "I took a private jet there. I said, well, I ain't heard from him, I got to go. Took a private jet back to LA and as soon as I landed, I had a message: 'Michael Jackson wants to meet you tomorrow morning.' I was still on the plane. I went up to the captain and said, 'I'll pay you whatever you want to take me back to New York.'"
Tucker then noted that he and MJ later became close friends as he encouraged the musician to field more work in Hollywood.
"He used to always say, 'Let's make history,'" he said. "'We want to see more of you, Chris! What are you doing?'"
Currently, Chris Tucker is starring in Air, a film produced by Ben Affleck and Matt Damon that chronicles Michael Jordan's influence on Nike during the 1980s.
Read the full GQ interview here.