Blac Chyna Is Reportedly Threatening To Stop The Kardashians' Smear Campaign 'By Any Means Necessary'
Enough is enough.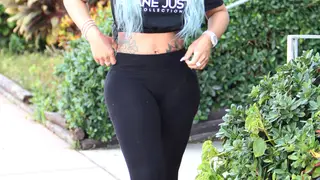 Blac Chyna isn't ready to surrender to the Kardashians regarding the custody of her daughter, Dream, following her Six Flags scuffle. In fact, she's gearing up to fight back.
According to TMZ, Chyna and her team are sternly defending the custody stipulations she and Rob Kardashian have in place "by any means necessary" following her ex-fiancée reportedly threatening to alter it.
The site reports that her lawyer, Walter Mosley, stressed that Chyna and Rob still have a valid custody agreement in place and the model protecting her daughter at the amusement park should not affect that in any way.
They further report that sources close to Chyna claimed she was "simply doing what she had to do to protect her kids in the Six Flags incident," and does not think her violent outburst should be held over her head.
This all comes on the heels of reports that Rob Kardashian is upset that Chyna put their child in harm's way during the incident and is planning on taking her back to family court. He is also allegedly concerned about her brining new men around their child without set rules and boundaries in place.