Break The Internet!: Kim Kardashian Is Set To Receive 'The Fashion Icon Award' At The 2021 People's Choice Awards
See some of her most stylish Instagram looks in recent months.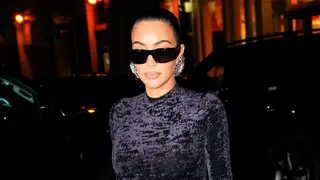 The People's Choice Awards has named Kim Kardashian "The Fashion Icon" of the year. Here's what we know about the big announcement that's breaking the internet!
In a press release, NBC and E! announced that the multi-hyphenate fashion and beauty mogul will receive the official title at the 2021 People's Choice Awards, which will air on Tuesday, December 7 at 9pm ET/PT.
"For nearly two decades, Kim Kardashian West's style evolution has disrupted and influenced trends on a global level and cemented herself as a force to be reckoned with within the fashion industry," said Jen Neal, the Executive Vice President of Entertainment Live Events, Specials & E! News, NBCUniversal Entertainment Television and Streaming. "For being a cultural inspiration, trailblazer and so much more, we can't wait to honor Kim with this year's 'People's Fashion Icon' award."
We are quite excited to see what Kim will rock on the red carpet of the star-studded event. We wouldn't be surprised if the owner of KKW BEAUTY and KKW Fragrance showed up in a trendsetting look from her new collaborative collection with Fendi, Fendi x SKIMS. If so, we would totally be here for it.
In honor of Kim's big honor, we're highlighting some of our favorite style moments from the Keeping Up With The Kardashian star. Get into it these looks posted on her IG recently!