Check Out Halle Bailey's Best Looks from 'The Little Mermaid' Press Tour
The beautiful songstress served 'Under the Sea' inspired looks from every red carpet.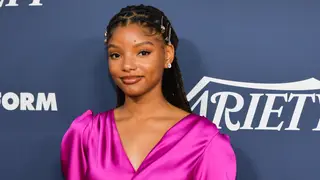 Disney's The Little Mermaid has raked in more than $117 million at the domestic box office and just over $185 million worldwide, according to CNN.
The film's star Halle Bailey has inspired a new generation of fans of the beloved classic and she has also been a rock star on the red carpet serving looks inspired by the film's underwater theme.
Here are a couple of Bailey's best looks:
At the Hollywood premiere on May 8th, Bailey wore a custom gown by Valdrin Sahiti that evoked a mermaid's shimmering tail. The glittering gown featured a shell bodice that accented Bailey's soft makeup. Her long locs hung freely and featured some of the wrap curls that were used in the film.
In an interview with Variety, Camille Friend who managed hair for the film shared some insight into how the iconic long, red hair was created while preserving Bailey's signature locs. "I knew a wig just wasn't going to work," Friend told Variety in an interview published on Friday, May 26. "I went to meet Halle's family. Her mother is spiritual and they are a kind family … I started to understand who she was and why the natural hair element was important to keep."
She noted that the 30-inch long hair was custom-colored and fused in with Keratin tips. "It's three shades of red," says Friend, who found the hair at Extensions Plus in Chatsworth. "I'm not guesstimating, but we probably spent at least $150,000 because we had to redo it and take it out. You couldn't use it and we'd have to start again. It was a process."
Bailey gave a seashell-inspired look for the London premiere of the film. on May 15, Bailey donned a custom Miss Sohee gown with beaded seashell motif and a glamorous "swim cap" style headpiece.
The headpiece featured pearl beads, rhinestones, scalloped edges that added to the underwater vibe.
Bailey was joined in London by her costar Jonah Hauer-King (who plays Prince Eric). The two laughingly showed off their on and off-screen chemistry.
In Mexico on May 11, Bailey was joined by Javier Bardem who plays her on-screen father King Triton. For this event, Bailey was draped in a silvery mesh gown that gave a netting effect and featured pearl embroidery, as she posed on the red carpet, which was transformed into a seaside grotto.
On May 22, Bailey wore a shimmering blue gown in Australia the top of her dress was encrusted with shiny jewels, the bottom featured a long train, giving the appearance of a mermaid tail.
The custom-made gown was designed by Miss Sohee who also created the breathtaking London look.
Our favorite look has to be the look of joy on the faces of Bailey's fans at the London premiere.
She has shared how much having a new generation of little girls look up to her means.
In an interview with People, Bailey expressed how grateful she is to inspire the next generation, especially young girls of color. "It's exceptional to be able to see a figure that you look up to that also looks like your auntie or your sister," she said.
"When I was able to see them, I felt like I was worthy," she adds. "Now that I'm on posters and inspiring these little girls that come up to me, it's very surreal. I just want to continue making them proud of me."