Dream, Inc.: Here Are All the Ways Chyna and Rob Are Allegedly Cashing In on Their Daughter
They're wasting no time.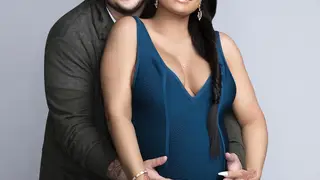 Dream Kardashian isn't even a week old yet and she's already helping her reality star parents make some big bucks.
According to Radar Online, in addition to the massive deal Rob and Chyna inked to film and air Dream's birth on their reality show Rob & Chyna, they also created a website and several social media accounts — Snapchat and Instagram included — for their newborn.
That's not all. A source added that Rob is going the extra mile to make sure the money keeps coming in. "Rob is also creating a separate line of 'Dream Kardashian' socks to be sold under his Arthur George collection," the source said.
Though it may seem that way, Rob and Chyna are adamant that they're not using their newborn as a cash cow. "Rob wants to limit how much camera time Dream gets on the reality show because he does not want her to grow up with the false sense that she is a star," the source explained. "Rob and Blac want Dream to have as normal a life as possible."
In true momager fashion, of course, Kris Jenner also allegedly has some input on how Dream can be a major asset to the couple and the family, but Rob actually put his foot down on this one.
"Kris has already had it out with her son over this because she wants to use her granddaughter to boost ratings for KUWTK," the source revealed. "But Rob told his mother that he is not having any of it."
See how Chyna and Rob cashed in on the birth of their daughter in the video above.