Black Tech Roundup: Six Black-Owned Tech Companies To Watch
High-tech hair care, Black-exclusive travel + MORE innovations with these breakout Black businesses in tech.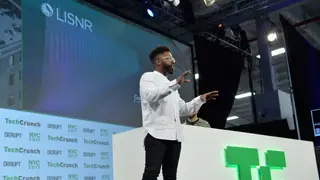 The technology space is not unfamiliar territory for Black people. It actually goes back decades from IBM programmer Evelyn Boyd Granville, gaming pioneer Jerry Lawson, to NASA engineers Mary Jackson, Katherine Johnson and Dorothy Vaughan (who were depicted in the film Hidden Figures); there's a long list of African Americans who have pushed tech forward. The tradition continues today with an explosion in Black-led firms bringing new innovation.
So, here are six Black-owned tech companies everyone should know about.
MYAVANA

MYAVANA is a high-tech hair care company innovating the beauty space with their original HairAI™ technology. Founded by Candace Mitchell-Harris, they use their unique artificial intelligence system to identify your hair type and texture in order to offer personalized hair analysis and direct product recommendations.

With the rising popularity of AI, this healthy hair technology is one to look out for. The brand recently celebrated their 11-year anniversary, while also debuting their new docu-series featuring celebrity hair stylists and diverse beauty innovators, The Hair That Bonds Us.

In 2012, Mitchell-Harris founded MYAVANA in beta, developing research and data surrounding AI hair care technology that analyzes hair strands to assess and assign appropriate hair care. She is now a Forbes 30 under 30 honoree.

Noirbnb

Noirbnb has actually been around since 2015; the Black-centric travel company gears its vacation stays towards safe and nondiscriminatory hosts and their guests.

After founder Stefan Grant faced discrimination while staying at a short-term rental in Atlanta, he thought it was time for Black travelers and hosts to have their own space to connect.

In lieu of the booming travel season, the company has recently launched its Noirbnb Travel Club, where members can join for free to receive discounts on rentals, manage bookings and more.

Airfordable

Co-founded by Ama Marfo and Emmanuel Buah, Airfordable makes this summer's travel season easier than ever by offering a layaway payment platform for purchasing airline tickets, where users can book flights and pay for them in installments.

The travel technology company began after Marfo was looking to visit her family in Ghana while in college, unaware of the exorbitant airfare prices. From there, she set on a mission to make travel affordable and accessible to all.

Almost 9.8 million people were screened through the Transportation Security Administration (TSA) during this summer's Memorial Day weekend alone, making Airfordable an absolute essential company to check out for all of your budget travel needs.

Flutterwave

Founded in 2016 by a trio of Nigerian entrepreneurs, Flutterwave is a financial technology company providing payment infrastructure and service providers to individuals and businesses, allowing customers to accept money in over 30 currencies, send money to anyone globally, start e-commerce businesses and more. Their custom card issuing service has been used by companies like Uber and Chipper Cash.

Flutterwave recently announced their launch of Tuition, a payment solution to support African students studying overseas by providing a payment method accessible to any region or currency in the world.

This comes right after their huge five-year strategic technology agreement with Microsoft to power global digital payments on the Microsoft Azure cloud platform by expanding payments to-and-from Africa.

Gro Intelligence

As people increasingly 'grow' their knowledge and interest in climate change, companies like Gro Intelligence help businesses, financial institutions, and governments better understand the complex concerns surrounding agriculture, climate, and the economy.

Founder Sara Menker uses her team of experts in both agriculture and technology to interpret massive data sets surrounding environmental issues, all supported by AI. They are then able to use this data to educate different industries on how they can innovate to better these issues.

A climate data scientist for Gro Intelligence, Dr. Greg Garner, recently co-authored a Nature Climate Change paper, analyzing a study connecting climate change to rising sea levels.

LISNR

Based in Cincinnati, LISNR carries major investors such as Visa, Intel and Jaguar Land Rover for their ultrasonic proximity platform that provides safe data transmission between devices on speakers and microphones.

The sound technology company was founded by Rodney Williams back in 2012, where their innovative technology has had applications in sectors such as mobile payments, ticketing, and smart devices.

Being our evolving contactless world, this highly relevant business recently teamed up with Bahamas-based SunCash, a digital wallet company, to enable ultrasonic authentication for online, offline, and Central Bank Digital Currency (CBDC) transactions. LISNR also secured a partnership with CLEAR earlier this year.