New Year, New You? These Books Will Help Reduce Your Stress And Give You The Insight To Reach Your 2022 Goals
Need to carve out more "me time" every day? Here are five books to meet your reading resolutions.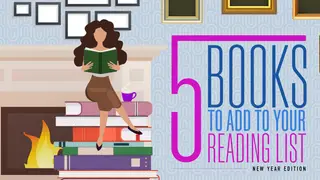 New year, new you? Nah! We are not here for that this year. We say be the already amazing person you are– just a touch wiser and stronger. No, we're not suggesting that you skip your workouts, get less sleep or totally give up on your wellness journey. In fact, we are here to help by offering some suggestions on reading material that will bring you the calm and quiet solitude that only a good book can offer to your daily regimen.
And why not, when there are so many awesome ones available? The ones that remind you how to love hard and manifest your dreams, and the others that help you navigate life and stand in the face of injustice. To that end, we have curated this list of five books to help you get started on a new adventure.
Oprah's The Life You Want Planner by Oprah Winfrey

For the longest time, Oprah Winfrey has been considered the queen of interviews, and that is quite understandable. All you need to hear is that Winfrey did an interview and instantly there's a meme made of her "keeping it real" expression like the one she made after the Prince Harry and Meghan Markle interview.

In addition to her journalistic skills, Winfrey has also been at the forefront in talking about our spiritual journeys and the importance of journaling. Oprah's The Life You Want Planner isn't a book that offers advice on transforming yourself; it's an intention journal that helps you envision and plot out the life you want to live.

It features 12 monthly and 52 weekly calendar pages to write notes or reflections and places to list your goals. The fun part is it doesn't have dates, so you never feel obligated to get things done in a certain time frame. This way, you're more inclined to start your journey whenever you're ready.

Just Pursuit: A Black Prosector's Fight For Fairness by Laura Coates

Let's face it, reading about our criminal system can set your blood pressure to record levels and that is not the result we want to see. Still, it is essential to understand what dealing with the criminal justice system can look like from an insider's perspective. Here at BET.com, we love memoirs, and Just Pursuit: A Black Prosecutor's Fight For Fairness is an easy read about a complex subject. If you've ever listened to author Laura Coates on her Sirius XM show or watched her as a senior legal analyst on CNN breaking down a case, you know that she has the skill to give you all the deets in digestible bites.

As a former federal prosecutor, her book takes us inside the court system where on her first day of work, every single defendant of the 73 cases she was assigned was Black. You will probably be angered by the implicit bias, racism and incidents like when Coates walks us through when she writes how a white male colleague tried to train her on how to unfairly interrogate young Black defendants. You will experience her angst as she balances serving the judicial system and defending her clients.

Black Cake by Charmaine Wilkerson

If you love a good mystery, then we suggest you pick up a copy of Black Cake by Charmaine Wilkerson. The novel has received a lot of buzz, and according to The Wrap, Hulu is the first to grab the TV rights for the family drama-murder mystery to be executive produced by Oprah Winfrey, Women of the Movement creator Marissa Jo Cerar and Carla Gardini of Harpo Films.

The book follows two very dissimilar siblings who embark on a journey of self-discovery after the death of their mother. They believed that she was a stern and skilled swimmer from the Caribbean who baked rum-soaked black cake. However, things take a turn when her lawyer plays a message that she has recorded for them. You will be transported through Jamaica, Rome, Scotland, England, and Southern California.

Call Us What We Carry: Poems by Amanda Gorman

Ever since Amanda Gorman recited her poem at President Joe Biden's inauguration on Jan. 2021, we have watched her flame slowly intensify and the burn is gorgeous. She has been on magazine covers such as WSJ, Time, and Vogue, and this New York Times bestselling author has entered into a three-year partnership with beauty brand Estée Lauder.

Now her latest book, Call Us What We Carry: Poems by Amanda Gorman—formerly titled The Hill We Climb and Other Poems—is written with lyrical beauty that explores grief, identity, hope, and the gift of healing. Gorman reminds us again why she is the youngest inaugural poet in U.S. history.

Black Joy: Stories of Resistance, Resilience, and Restoration by Tracey Michae'l Lewis-Giggetts

For the days when you feel overwhelmed and off your game, the essays from Tracey Michae'l Lewis-Giggetts' book Black Joy: Stories of Resistance, Resilience, and Restoration will be the inspiration you need to remind you of the strength that you have within.

Lewis-Giggetts has authored 18 books, and these personal poetically written pieces are created from a place of expression that confirms the complexity of the Black experience.

The Chiffon Trenches by André Leon Talley

On Jan. 18, 2022, larger-than-life fashion icon and former Vogue editor, André Leon Talley, died at 73. The man once dubbed the "pharaoh of fabulosity" inspired a generation of editors beyond color lines and peeled back the curtains for those of us who wouldn't ever have the chance to sit next to the editor-in-chief of Vogue, Anna Wintour. His enthusiasm for all things beautifully luxe was contagious but more importantly, the way he chose to live taught us never to give up. His insights and more can all be found in his candidly written memoir The Chiffon Trenches.

While the book is for those of us who love saucy behind-the-scenes details, it is also poignantly written about pain and heartbreak from the perspective of someone that grew up in the segregated South. He believed in taking risks and adored fashion, style, beauty and the possibilities in between. He states in the book, "You must wake up and create your own miracles everyday. I went through my life on the strength of hope and the memory of my ancestors and the people who showed me unconditional love. There is no sunny day, yet there's sunshine in my life. You have to hope…you must rise to meet the day." André Leon Talley was truly one of a kind.