The Fashion Community Pays Tribute To Style Icon André Leon Talley
Tyra Banks, Kimora Lee Simmons, Jennifer Hudson, and more share heartfelt words.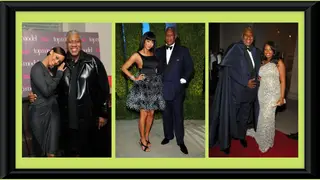 André Leon Talley, the fashion icon and former Editor-at-Large and Creative Director at Vogue, has died at 73. Talley, a North Carolina native during the Jim Crow Era, defied the defined boundaries that were so clearly set socially and professionally for a towering queer Black man. 
Talley navigated the fashion industry cloaked in extravagant larger-than-life capes and built relationships with designers like Karl Lagerfeld, Diane von Furstenberg, Yves Saint Laurent. A luminary industry-wide, Talley served as a profound testament of what could be for Black people in fashion—and industry helmed by white counterparts and guided by high-handed privilege.
Talley ascended the ranks of the fashion industry and journalism, first interning for Diana Vreeland, the former Vogue editor-in-chief, working as her assistant at the Metropolitan Museum of Art's Costume Institute. The beginnings of his career also included stints at Interview Magazine alongside Andy Warhol, Women's Wear Daily, W Magazine, and the New York Times. Still, his appointment at American Vogue exponentially expounded his career. His astute knowledge coupled with his endless wheelhouse of creativity marked Talley as an irrefutable trailblazer and an usher of possibility.
Following his time at Vogue, Talley explored new editorial ventures, including becoming the Editor-In-Chief at Numero Russia, a Russian style publication, and authoring his best-selling memoir, The Chiffon Trenches. The memoir detailed the inner workings of Talley's acclaimed career, including the deafening racism he experienced and his tumultuous relationship with Anna Wintour. In more recent years, Talley preserved and relished in the space he so meticulously carved out as an immeasurable force and immutable legend.
In the wake of his passing, fashion editors, designers, models, and celebrities who had been graced with Talley's presence, words and laughs shared heartfelt memories and tributes of the fashion giant.