5 Best Books of 2021
These must-read books of 2021 will challenge your beliefs, resonate with your reality and make you want to spend your winter break reading.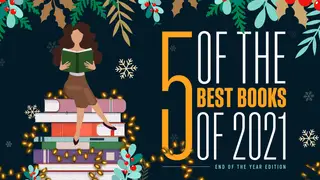 This year was challenging in many ways that we are still coping with, but great memoirs, biographies, cookbooks, works of fiction, and poetry provided a respite from our sometimes harsh realities. Some of those books were based on the lives of people we loved, respected, and lost too soon while others delved into race relations, love, and coming of age.
And while we covered some of those pieces of literature throughout the year, we know there were others that deserved some attention but went under our radar. However, we know that with all the good literature available we would be hard-pressed to capture all of them. So, please let us know when you find a good book that you want to share.
Until then, here are three of our favorite books from our past lists this year and two new mentions that we want to celebrate and appreciate.
1. JUST AS I AM BY CICELY TYSON*
With a career that remarkably spanned more than seven decades, Cicely Tyson was more than an actress and activist; her life was the personification of passion and possibility. Born Dec. 18, 1924, the once model whose career racked up 16 Emmy nominations, died at 96 years old—leaving behind a memoir published on Jan. 26, 2021, two days before her death.
In addition to other personal details, this recounting of her life tells of how she trusted her gut when choosing the characters she'd played.
"I know instantly whether I should take a role. If my skin tingles as I read the script, then it is absolutely something I must do. But if my stomach churns, I do not touch the project, because if I did, I would end up on a psychiatrist's couch," she adds in the book.
You will also better understand the determination it took for her to survive and excel as a Black woman in Hollywood, what drove her to become an activist, and how the incomparable jazz musician Miles Davis was the love of her life. During an interview with Gayle King, Tyson spoke about their relationship saying, "I was in love with him. He was a beautiful human being." And so was she.
2. LIBERTIE BY KAITLYN GREENIDGE 
As a freeborn Black girl during Reconstruction, Libertie Sampson understood the weight of her mother's expectations and plans for her. Although her mother —also freeborn—a physician, envisioned that Libertie would follow her path and attend medical school, Libertie had other dreams. She wanted to sing. 
Still, there was a time when she had thought that she would work alongside her mother. Even dreaming of a horse-drawn carriage inscribed with "Dr. Sampson and Daughter" in gold.
Though her mother had established her autonomy and opened a clinic in what is referred to as an "all-colored" town, Libertie would need to forge her own path. But that isn't without its share of letdowns and moments of feeling demoralized. She is often reminded that she is darker than her mom, will be treated unequally and subordinate to men.
Based on one of the first Black female doctors in New York State—Susan Smith McKinney Steward— Kaitlyn Greenidge's coming of age story is rich with details that though historical, will still resonate with readers while providing hope for what can be.
3. REVIVAL SEASON BY MONICA WEST *
Many of us have moments when our faith and all that we have known and understand gets shaken and maybe even tested. The debut novel Revival Season by Duke and New York University graduate Monica West artfully tackles all of those things against a Southern backdrop. The story captures the lives of 15-year-old Miriam Horton and her family as they travel in an old minivan through small towns for revival season. A time when Miriam's father, a famous southern preacher, held healing services for folks who are desperate to be cured of disease and illnesses.
But this summer season, things take a turn as her father's powers are tested in new ways, and Miriam's life changes as she witnesses a startling act of violence by him. She is so profoundly affected that her religious faith and trust in her father are both tested. Added to this discovery is another that Miriam herself may also possess the same power to heal, which her father and church had made clear wasn't possible for women.
This coming of age story addresses faith, trust, feminism and spiritual awakening in a Southern, Black, Evangelical community.
4. THE FINAL REVIVAL OF OPAL & NEV BY DAWNIE WALTON 
Although The Final Revival of Opal & Nev slipped by us in March, Dawnie Walton's work made Former President Barack Obama's yearly round-up of books. The story is told through the experiences of an aspiring musician, Opal. As part of a rock duo with Nev she navigates the early 1970s creative rock scene in New York City.
But Opal is reminded after a protest over a rival band's use of a Confederate flag at a concert that the blowback for women—especially Black women— can be harsh and unforgiving when they dare to be bold, speak the truth and stand up for what they believe in. The aftermath finds that Opal who is described as an "intergalactic showstopper" fades away as Nev, who is white and male, enjoys a successful career.
Fast forward to 2016 as Opal considers a reunion with Nev but allegations threaten to derail that dream. In a book that spans five decades, Walton's narrative provides us with an emotionally charged novel that is about music, family secrets, and race.
5. PUNCH ME UP TO THE GODS BY BRIAN BROOME*
There are some books that are so beautifully written that you want to devour every word without distraction. And sometimes, that same book is written with such brutal honesty that you feel every moment fraught with tension, humor, and joy. Such is the case with Punch Me Up to the Gods by Brian Broome, whose formative years growing up as a dark-skinned boy in Warren, Ohio was fraught with colorism and homophobia.
Broome weaves his journey by recounting funny and uncomfortable moments as he struggles to find his way. It'll be hard to put this book down.
* Books previously mentioned in past roundups from 2021.