Michelle Obama's Heartfelt Message To Vanessa Bryant Will Bring Tears To Your Eyes
"All my love to you and the girls."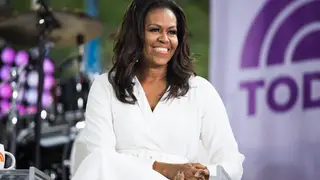 Michelle Obama knows the bond between mother and daughter, so it's no surprise she feels pain for what Vanessa Bryant's had to go through over the past 16 months.
The forever First Lady took to her Instagram account on Tuesday (May 18) to send a beautiful message to Bryant, acknowledging how much loss she must be feeling just two weeks after what would have been Gianna's 15th birthday.
"As a wife and mother, I have thought a lot about what Vanessa Bryant has been going through this past year," captioned Mrs. Obama under a picture of her sporting Vanessa's Mambacita clothing line.
"I was touched hearing her speak with such courage and strength this past weekend at the Basketball Hall of Fame induction ceremony honoring Kobe, and I am proud to join so many others in building upon Gianna's legacy by supporting the Mamba & Mambacita Sports Foundation," Obama added. "@VanessaBryant, all my love to you and the girls and the next generation of athletes you are working to empower. #PlayGigisWay."
Kobe Bryant, Gianna, and seven other people were killed during a helicopter crash on January 26, 2020. The NBA legend was inducted into the Basketball Hall of Fame over the weekend as Vanessa spoke at the event, labeling her late husband one of a kind.
"There will never be anyone like Kobe," Vanessa Bryant said during the induction ceremony. "Kobe was one of a kind. He was special. He was humble - off the court - but bigger than life."
See Michelle Obama's Instagram post below.