Whoopi Goldberg Completely Snapped On Meghan McCain For Rude Comments During Live Taping Of 'The View'
The talk show veteran had enough of McCain's antics.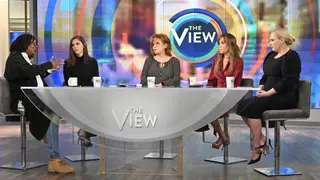 It's no secret that Meghan McCain likes to talk over people when she doesn't get her way on The View.
Usually, her co-hosts let it slide in the name of peace. However, on Monday morning's (December 16) show, Whoopi Goldberg was not having it anymore and tore McCain to sheds.
During the episode, while McCain's fellow conservative and guest co-host Abby Huntsman discussed the difference between Donald Trump refusing to testify in the impeachment proceedings and former vice president Joe Biden saying he would not go under oath, tensions began to build.
Co-host Sunny Hostin then brought up Bill Clinton's impeachment and bashed Republicans who voted to convict Clinton on perjury but will now turn around and acquit President Donald Trump for abusing power.
"That is the height of hypocrisy for this Republican-led Senate!" Hostin said emphatically.
McCain then chimed in and said it wasn't her place to "litigate the ethics" of impeachment but to analyze the politics of the situation as "an ABC political analyst." 
When Hostin attempted to explain her stance, things got heated. "Let me talk," McCain demanded. "I let you talk, let me finish."
Goldberg jumped in to mediate as the commercial break approached, but McCain continued to complain, saying she thought the network "wanted a conservative perspective on this show."
That's when Whoopi snapped.
"Girl, please stop talking!" she said as McCain's jaw dropped. "Please stop talking now!"
"No problem," McCain replied. "I won't talk the rest of the show."
"I'm okay with that," Goldberg responded. "I'm okay with that. If you are going to behave like this."
Phew! Social media was all here for the shakedown as well. See what they had to say below.