Watch The Trailer For Ayesha And Stephen Curry's New Celebrity Couple Game Show
'About Last Night' is due to premiere on HBO Max in February.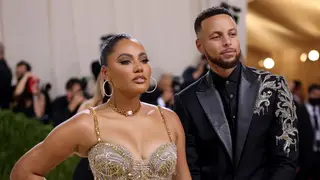 The cookbook author and three-time NBA champion took to Instagram last week (Jan 25) to announce their show, About Last Night, in what is slated to be a celebrity couple date night game show.
Coming to HBO Max on February 10th, the program is expected to include cameos from a number of celebrities, including Niecy Nash, Terry Crews and Bobby Lee, in a competition of who knows their spouse best.
The game show will decide winners through head-to-head relationship trivia and games, with the winning couple facing off against the Currys in a bonus round to compete for an additional donation of their choice, the press release reads.
Produced by the Currys, About Last Night premieres on the streaming service on Feb. 10. Peep the trailer below: