Stephen Curry Lands His Own Under Armour Brand
Find out the details behind the deal.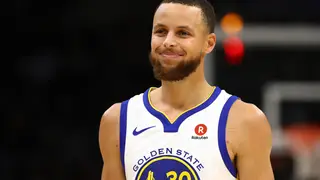 Stephen Curry changed the way NBA basketball is played, and now, Under Armour is changing the way his apparel will be labeled.
The Golden State Warriors point guard, similar to Michael Jordan before him, is reportedly getting his own venture under the athletic apparel giant: Curry Brand.
"This is an opportunity to put a true investment around the purpose that I've been living out since I've been in the league, to elevate the relationship I have with Under Armour and to make this as authentic to me as possible," Curry, who's been signed to UA since 2013, told Footwear News.
Under Armour president and CEO Patrik Frisk said the Curry Brand and the three-time All-Star are representative of the direction his company wants to move in moving forward.
"It is a commercial endeavor in combination with a purpose-driven endeavor. That is the big differentiator with this brand," Frisk said. "As Under Armour is moving and shifting from just being a product company to a purpose-led company, this idea matured and became more and more exciting. It is something unique in our industry."
Frisk added that the Curry Brand's relationship with Under Armour is similar to Project Rock, the label of Dwayne "The Rock" Johnson.
"We have a very clear, defined program for how to activate kids, in terms of building out places where they can play the game, in terms of programs where they can participate, in terms of training coaches," Frisk said. "The consumer, when they buy a Curry Brand product, will know that part of the proceeds will go to helping out with these programs."
First up for the Curry Brand will be community activations in partnership with the Oakland Unified School District, which will encourage kids to play sports and help them learn the benefits of participation.
According to Steph, via FN, the program will support roughly 8,000 middle school students. He also hopes to create three safe spaces for kids to play this year, and by 2025, he hopes that number reaches 25 courts and community centers.
Curry has also teamed up with Positive Coaching Alliance to provide professional development for youth sports coaches, as well as Oakland Parks, Recreation & Youth Development.
Further details about Curry Brand have not yet been released.