4 Things We Learned From Offset's 'Variety' Cover Story Interview
The Migos rapper is not actually related to the other group members.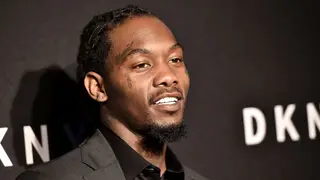 Offset is setting the record straight about a few things, and some of them may be surprising.
During a cover story interview with Variety, the Atlanta rapper recalled his upbringing, how he, Takeoff and Quavo created Migos and noted that it's still very difficult for him to discuss the passing of Takeoff, who was killed last November at a Houston bowling alley.
Here are four things we learned from Offset's interview with Variety.
He is not actually related to Quavo and Takeoff

Despite often labeling themselves as family, Offset is not actually a cousin of Quavo nor Takeoff, rather developed a bond growing up in Atlanta. According to Janee Bolden and Jem Aswad, who wrote the piece, "although Offset is often referred to as Quavo's cousin, they are actually not biologically related."

The Migos met in middle school

Offset tells Variety he was Quavo's classmate and started hanging out with the uncle-and-nephew pair when he was in the sixth grade. Those hangouts eventually turned into the Migos, making their debut in the early 2010s.

It's still hard for Offset to discuss Takeoff's death

After previewing a song featuring Takeoff from his upcoming album, Offset revealed that it's still hard for him to even get on the subject of his fallen bandmate.

"It's hard for me to talk about shit right now," he told the outlet. "I've never talked about this stuff. Seriously. Talking about Take is hard, man. Talking about all this shit is hard. That's why I don't, to be honest. That shit hurts. Like, it's gonna put me in a mood, and I don't want to get in that mood."

Offset added: "Some things I don't never tell nobody. He's not here. That shit feels fake, bro, I get through my day thinking it's fake. And I don't say nothing to nobody about it."

A announcement about Offset's new album is coming soon

According to a spokesperson from Capitol Records, to which he is signed, details about Offset's forthcoming album are coming soon.

"Offset has made a phenomenal album; we can't wait until the world hears his masterpiece," the label rep told Variety, adding that the new record will be paired with a tour. "We're deep into release planning now and will soon have big news to share!"