The Dirty South Rap Crews: Who Will Reign Supreme?
From Quality Control to So So Def, the Dirty South is where icons of hip hop are made.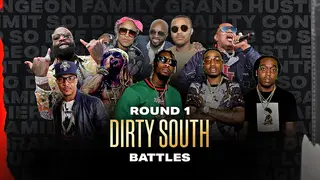 Rather than having "experts" tell you who is the greatest of all-time, this is your opportunity to collectively make that decision. After giving the opportunity to any and all fans to provide feedback on which crews should be included, 32 collectives from different regions, styles, and generations have been selected—all vying for that #1 spot. When the final battle is over and the last vote is cast, you will have determined who is your Greatest Rap Crew of All Time. Finally, we take a look at the Dirty South. 
The South had something to say long before André 3000 stated it at the 1995 Source Awards. Artists from Miami, Atlanta, New Orleans, Houston, and other areas have detailed life in their cities with an ingenuity that comes from feeling excluded. 
The Dirty South has produced unique art and provided a business acumen rooted in grassroots marketing, Black ownership, and creative originality. After 20 years of quality music, the South became a dominant force in rap during the 2000s. Subgenres like trap, bounce, Miami bass, crunk, and slab music represented musical dialects as distinct as the lyrics and deliveries. 
This region drew from its roots in blues, R&B, and soul to make music that has been energetic and profoundly reflective. Crews from this region have been built to last, often based around flagship southern artists with movements that extend elsewhere through game-changing additions and expansions. Over the last 35 years, Dirty South crews have cultivated trends and defied conventions in making great hip hop.
Check out the crews representing the Dirty South. 
Over the last 20 years, Lil Wayne and T.I. have competed and collaborated. Long before "Swagga Like Us," both artists became dominant voices in rap, thanks to great albums and acclaimed mixtapes with DJ Drama. While Weezy was a product of a movement years in the making with Cash Money before assembling his Young Money cohorts, T.I. curated a crew around him that was built to last. Those crews have made history together, with Travis Scott and Drake's "Sicko Mode" being one diamond-certified example. YMCMB and Grand Hustle have weathered the storm and evolved as crews through changing trends and styles. Both brands transcend music and represent an aspirational lifestyle and loyalty as they grab talent from around the continent and represent themselves as family. Two titans square up in this Round 1 matchup as YMCMB faces Grand Hustle.
Located less than 400 miles apart, two crews launched movements that solidified their two cities as among the most important in hip hop, and served as further proof of Andre 3000's exclamation that "the South has something to say." In the 1980s, J. Prince curated a Rap-A-Lot crew that garnered critical acclaim in a 20-plus-year path of hit songs, platinum albums, and a refusal to conform. In New Orleans, Master P and his No Limit crew gave way to a meteoric rise that took talent from around Louisiana and beyond and earned them plaques, chart appearances, and industry-wide recognition. In both cases, it was far more significant than a label—as these crews moved like family, emphasizing pushing talent into the spotlight and demanding recognition. Only one of these crews can remain as the Dirty South region's bracket slims down to four.
Quality Control and So So Def represent two Atlanta-based movements twenty years apart. Both crews embraced the voice and energy of the youth and developed artists to grow into stars. These squads, which include artists such as the Migos, Bow Wow, Lil Baby, Da Brat, and Jermaine Dupri provided new sounds, emphasizing collaborations, compilations, and branding the crew as not just a label or roster but a lifestyle. Atlanta became—and continues to be a Black music destination because of So So Def and QC. However, as the Dirty South bracket consolidates from 8 crews to 4, only one hit-making outfit can remain.
Nearly 20 years apart, two major movements started in Atlanta and Miami. Atop the 1990s, producers/artists Organized Noize began cultivating a crew of MCs with distinct styles, flows, and subject matters. Along with singers and poets, this collective became the Dungeon Family—who began in a basement and took their talents to the top of the charts and mainstream consciousness—from OutKast to Gnarls Barkley. Years later, Rick Ross assembled a talented team around him at Maybach Music Group. Ross chose artists that, like him, had been in the industry but were due for greater recognition. His collective would pull from around the country, including Meek Mill and Wale, and make collaborations that felt like these artists had known each other for decades. In both crews, those relationships still endure as the music continues to be made. However, MMG and DF must face off in a Round 1 matchup where only one of these great crews can go forth.
---
EDITOR's NOTE: Register for the sweepstakes for a chance to win the grand prize of (2) two tickets to the 2023 BET Awards,(2) two round-trip airline tickets, and a 2-night hotel stay on June 25. Up your chances to win by voting weekly.
NO PURCHASE NECESSARY TO ENTER OR WIN. VOID OUTSIDE OF THE 50 U.S. & D.C. AND WHERE PROHIBITED BY LAW. Open to legal residents of the 50 U.S. & D.C. who are 18 years of age or older at the time of entry. Ends at 12:00 p.m. ET on May 1, 2023. Official Rules: bet.com/grcoat-official-rules. Sponsor: Black Entertainment Television.