Wait, Is Beyoncé Giving Birth Right Now?!
Twitter is in a frenzy over this clue.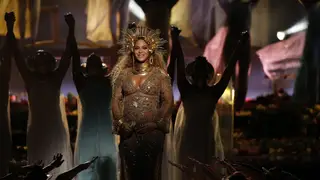 The birth of Beyoncé's twins is undisputedly the most anticipated event of 2017, and the larger her bump grows, the closer we're looking for clues that the blessed event is taking place. Of course, we know Bey isn't going to give us the heads up, so that leaves it to us to keep a vigilant watch.
Well, on Sunday morning Twitter exploded after "news" leaked that Bey is giving birth as we speak. 
It started with this tweet from 'TMZ':

Twitter Undertandably Flew Into a Frenzy:

Until Some Realized This May Be a False Alarm:

Regardless, the Hive Remains on High Alert, Especially Since Bey Literally Looks Ready to Pop: