#MajorKey: DJ Khaled Sells Out $11 'Sneaker Kingdom' Stay In Miami On AirBnB In Minutes
The Palestinian-American super-producer also threw in some luxe gifts for lucky guests.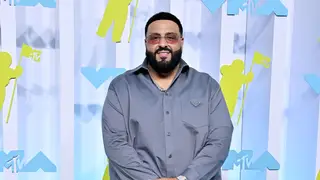 DJ Khaled is opening up his lavish Miami digs to fans and sneakerheads alike.
The 47-year-old super-producer and sneaker fiend announced a partnership with AirBnB on November 29 via Instagram.
The Grammy-winning artist is widely known for his extravagant tennis shoe collection, and guests will now have the opportunity to rent out the space that holds over 10,000 pairs of sneakers. The unit is only available on December 5 and 6 for the incredibly low price of $11 per night. The rate is a      nod to his shoe size and the number of studio albums Khaled has dropped.
The bonus for staying at the "God Did" artist's spot is a handwritten welcome letter,  "a chance to enjoy some of my favorite spots in Miami, like a catered dinner from my restaurant The Licking - Miami Gardens," and a unique pair of Air Jordan Fives from his "We Da Best" collection. The unit comes with a comfy-looking bed, WI-FI, security cameras and an outdoor lounge with a swimming pool.
Khaled told potential guests, "Sneakers have always been a MAJOR part of my life. Now, in honor of my upcoming We The Best Air Jordan 5 collection drop, I'm GRATEFUL for the opportunity to invite guests to kick it in my sneaker kingdom."
The stay at his "Sneaker Kingdom" has already sold out!