This Day in Black History: Dec. 5, 1955
The Montgomery Bus boycott began on Dec. 5, 1955, setting the stage for desegregation in public transportation.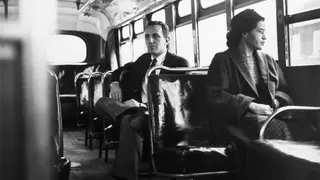 The protest began on Dec. 5, 1955, four days after Rosa Parks, an African-American woman, refused to give up her seat to a white man on a Montgomery bus.  She was arrested and fined.
The boycott of public buses by Black citizens began after Parks' court hearing. The boycott, which was led by Martin Luther King Jr., lasted 381 days, until Dec. 20, 1956.
It was considered the first large-scale demonstration for civil rights in the United States. In addition to using private cars, some people used non-motorized means to get around, including cycling, walking, or even riding mules or driving horse-drawn buggies. Some people also hitchhiked.
Across the nation, Black churches raised money to support the boycott and collected new and slightly used shoes to replace the tattered footwear of Montgomery's Black citizens, many of whom walked everywhere rather than ride the buses and submit to segregation laws.
Ultimately, the United States Supreme Court ordered the city of Montgomery to integrate the transit system and King emerged as an internationally celebrated leader of civil rights.
In 2021, on the Montgomery Bus Boycott's 66th anniversary, the one-time Alabama seamstress was honored with a monument at the Rosa Parks Museum in Montgomery. The memorial, comprised of black steel spires in a "V" shape with an outline of Parks' face, appears at the site near where she was arrested, according to The Associated Press.
Madeline Burkhardt, the museum's adult education coordinator, and curator told the news outlet the museum hopes to "provide visitors a new way to interact with history and Rosa Parks' legacy,"