New York Republican Congressman George Santos Also Claimed He Was Black In Resurfaced Tweet
Santos has been caught in a series of lies from his educational background to his work history.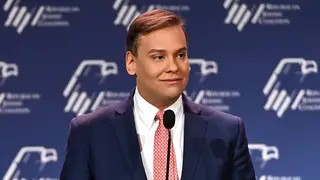 Republican Congressman George Santos is set to be sworn in today to represent New York's 3rd congressional district, despite being exposed for a series of mistruths. Santos, who made history for being the first openly gay Latin Republican elected to congress, has also claimed to be Ukrainian, Jewish, and now a tweet surfaced where he said he was Black.
In a July 2020 tweet, Santos appeared to be complaining about "Lift Every Voice and Sing," which has been the Black National Anthem since 1919. In the tweet, he said he was biracial, attempting to justify why he believed the anthem was "segregation": "#MLK did not die for us to go back to segregation. As a biracial person I stand tall against segregation of any kind. This so called 'black anthem' is the most divisive thing I've ever seen. We are all #Americans under one flag and our anthem is the #StarSpangledBanner!" Again, Santos seemed to be unaware the Black National Anthem was nothing, but the awkward tweet didn't stop there.
A user questioned "how" he was biracial, and in a tweet that is still not deleted, he wrote, "Caucasian and black."
George Santos has not addressed the claims that he is Black, which appears to be a new statement that can't be verified. The list of Santos' lies, or as he says, embellishments, is jaw-dropping. Santos claimed he graduated from NYU and Baruch College but has no degree from either institution and never even attended, according to reports. Additionally, the 34-year-old said he worked for Citigroup and Goldman Sachs, which was not true. He repeatedly said he was Jewish and his grandparents fled the holocaust – Santos attempted to clarify by telling Fox News he was "Jew-ish." Santos once said he owned several rental properties in New York, which he admitted was not true after he was exposed. Santos also said he had been openly gay for 10 years but divorced his wife in 2019. Santos' ex-boyfriend Pedro Vilarva said Santos repeatedly lied and broke up with him after he discovered he was wanted by Brazilian police for allegedly writing bad checks in 2008. Brazilian authorities recently stated they will revive the fraud case against Santos and claimed they stopped the investigation because they were unable to find him for almost ten years.
There are also questions about how he went from making $55,000 a year in 2020 to between $3.5 million and $11.5 million in 2021 and 2022.
Few House Republicans have addressed this scandal, including Rep. Kevin McCarthy. Santos has said he will vote for McCarthy as House Speaker, a vote McCarthy needs considering he is struggling with reaching 218 votes.