Hip Hop Awards 2022: Joey Bada$$ Pays Tribute To Fallen Rappers
Performing "Head High," he urges hip hop to take accountability for the violence.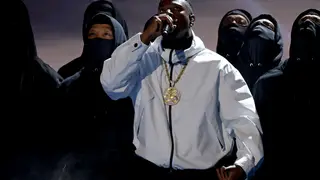 Joey Bada$$ hit the 2022 Hip Hop Awards stage to deliver a strong message to the hip-hop community.
Following a heartfelt tribute to the late Young Dolph, Joey dedicated his performance of his song "Head High" to all of those  lost in hip hop. Dressed in a white jacket to compliment his chain, he was accompanied by ten guys wearing hoodies with names on the back of rappers who have died in violence.
The names on the hoodies of those who have died stretched back as far as 1986 and were as recent as just two weeks ago, including Scott La Rock, Big L, Notorious B.I.G., Tupac Shakur, XXXTENTACION, Nipsey Hussle, King Von, Pop Smoke, Young Dolph, and PnB Rock.
"As rappers we gotta stop perpetuating our own genocide," the 27-year-old emcee said, closing out his performance. "It's a war going on inside and outside no man is safe from. How ya'll rappers call yourself real – turn around and tell these kids kill each other. See the problem is, we our biggest opps. Done pointing fingers at the judges and the cops. It's time to take accountability."