Nate Parker Speaks Out on His Rape Accuser Who Committed Suicide
The actor is getting slammed on social media.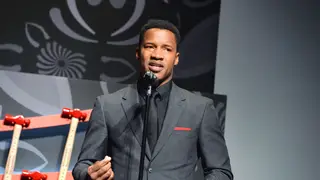 Nate Parker's past came back to haunt him yesterday when The Hollywood Reporter posted a story with full details about his college rape trial. 
Well, turns out some details were even news to Parker: he learned through the media's investigation that the young woman who accused him and his then roommate (and current Birth of a Nation co-writer) of rape committed suicide three years ago.
Parker says he is "devastated" to learn the news of her passing. "I myself just learned that the young woman ended her own life several years ago and I am filled with profound sorrow… I can't tell you how hard it is to hear this news," he writes. "I can't help but think of all the implications this has for her family."
He continues, "I cannot- nor do I want to ignore the pain she endured during and following our trial. While I maintain my innocence that the encounter was unambiguously consensual, there are things more important than the law."
Read the full statement below: 
Parker's reputation is taking a huge beating as a result of this news, at a time when he's about to go on the biggest and most important press tour of his life to promote his Oscar-buzzy film Birth of a Nation. 
Catch up on the full story with BET Breaks, above.