Run That Back: This Week in Music Featuring Gucci Mane, Black Hippy and More
Our music staff picks their favorite songs released July 1-July 8.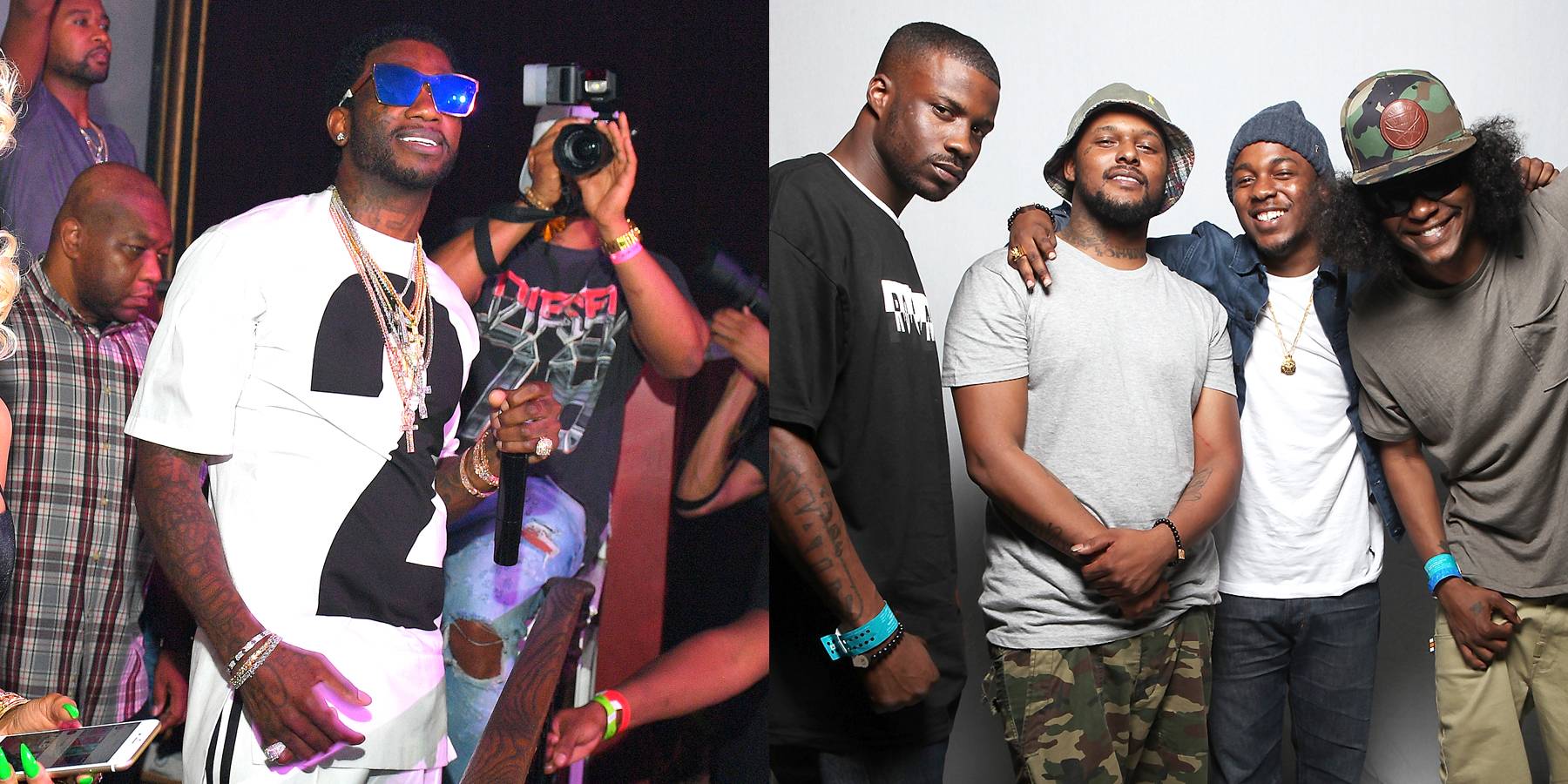 A lot went down in music this week. Here are some of the most notable releases.
Gucci Mane's been hitting the ground running ever since he got out of prison (or didn't if you still believe he's a clone). The Atlanta trapper featured Tupac on his latest song "On Me" and it's not terrible. Peep it out here.
In celebration of today's release of ScHoolboy Q's latest album Blank Face LP, the L.A. rapper dropped a remix of his single "THat Part" featuring his group Black Hippy. Hear the remix here.
Big K.R.I.T., Jazz Cartier and others all released music this past week. Check out some of our favorites below.
ScHoolboy Q – 'THat Part (Black Hippy Remix)'
A Black Hippy remix is like a family reunion – minus your grandma's line of questioning. Your hood cousin Jay Rock comes through, and hits you with that street s**t, reminding you that it's real out there. Your brother Kendrick Lamar – the one who talks real fast so you gotta pay attention – keeps it short before he dips out, but leaves you in deep thought. Your cool uncle Ab-Soul is always high, so he lets you take a hit. Then your woke uncle pulls up in his Ferrari, spitting knowledge about police brutality. And there you are, extremely happy to be there, relishing in the menacing beat. – Iyana Robertson
Gucci Mane Featuring Tupac – 'On Me'
OK, this "featuring Tupac" is lowkey erroneous, since this is a borrowed bit from Pac's "F**k Em All." But the West Coast inspired beat, coupled with Guwop bringing some bars of paranoia and a perfectly fitting Pac verse does make this track a win. Gucci's clarity post-prison release is pretty great. Hopefully he keeps it going. — Kathy Iandoli
Nick Grant – 'Black Boy'
On a week that's been riddled with cold-blooded, racially driven murders at the hands of sociopathic police officers, Nick Grant offers a little perspective on the societal differences in growing up with Black skin versus White privilege. Grant is carrying the flag for lyricists out of the ATL and with this one shows he's got some real stuff to say as well. — Jacob Rohn
Lady Leshurr Featuring Wiley – 'Where Are You Now?'
Lady Leshurr is like taking a breath of fresh air after being indoors for days. The English rapper has been doing the mixtape thing for a good seven years, so her current Sony Music UK released single for "Where Are You Now?" isn't so much a coming out party as it is a marker for a new age in her career – she's turned down major label deals in the past. All the wit, rhythm, tone and delivery that made songs like "Queen's Speech 4," "Boom Bam" and "Blazin" are on here.
What I love most about her and "Where Are You Now?" is that nothing she has done so far is bigger than she is. She's the main attraction. In a soundscape where female MCs tend to deliver grandiose records that totally overshadow the deliverer, I can breathe a little easier knowing we've got another female MC that seems more concerned about the long haul than hits. — Jon Reyes
Big K.R.I.T. – '#12For12'
Big K.R.I.T. and consistency go hand-in-hand. While announcing he's no longer signed to Def Jam Records, the Mississippi rapper also dropped 12 freestyles within 12 hours, and might I say they're what we've expected of K.R.I.T. If you want one to really touch you, peep "Flying Lotus." It's amazing and relays K.R.I.T.'s superiority over any other rapper from the south currently. — Paul Meara
Jazz Cartier – 'Lil Wayne'
What's one way to turn your idol into your newest fan? For Jazz Cartier, penning a homage to the legendary rapper resulted in Lil Wayne showing him love right back. On his tribute track, "Lil Wayne," Cartier, a rising artist based out of Toronto, pieces together lyrics from fan-favorite Weezy tracks while also offering his own bars that build the argument whenever Wayne passes the mic next, Cartier is willing to prove he's worthy of the hand-off. — KC Orcutt
Jay Z – 'Spiritual'
Jay Z released a single — his first solo single since 2013 — that speaks to the ever-present police brutality that young Black men face at the United States. "I am not poison / No, I am not poison / Just a boy from the hood that got my hands in the air in despair / Don't shoot / I just want to do good," Hov rapped in "Spiritual." He created the track a "while ago" and though he didn't release it then, the single is very much relevant this week following the murders of Alton Sterling and Philando Castile. — Janice Llamoca