Don Lemon Speaks Out In His First Interview Since Firing From CNN
The former anchor says he's in no rush to make his next move.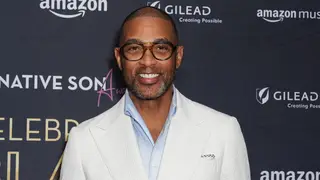 In an interview with local Memphis station WATN anchor Rudy William, Lemon, 57, said he's looking ahead and focusing on the fire within him – not his firing from CNN – and his professional commitment to truth telling.
"I have a responsibility as an American — not only as a journalist — to tell the truth and abide by the promises of the Constitution because the Constitution says a more perfect union — not a perfect union. I'm not perfect. No one is, but I think to fulfill the promise of the Constitution, we have to stand up for what is right. We have to stand up for the truth," said Lemon, who was in Tennessee to address the NAACP Memphis chapter at its annual gala.
At the time of his termination, Lemon was mired in controversy for months since his on-air comments about Republican presidential candidate Nikki Haley. He said Haley, 51, "isn't in her prime, sorry," adding, "A woman is considered to be in her prime in her 20s and 30s and maybe 40s."
There was widespread speculation that Lemon's April 19 interview with GOP presidential candidate Vivek Ramaswamy was a tipping point. During that interview, Ramaswamy, a tech entrepreneur, lectured Lemon on Black history, saying that "Black people secured their freedoms after the Civil War … only after their Second Amendment (gun rights) were secured."
In doing so, Ramaswamy repeated a debunked false claim that the National Rifle Association (NRA) played a "big role" in securing those freedoms.
Lemon fired back: "You are discounting a whole host of things that happened after the Civil War when it comes to African Americans, including the whole reason that the Civil Rights Movement happened is because Black people did not secure their freedoms after the Civil War."
In his interview with WATN, Lemon said he has a journalistic duty to challenge misinformation, though he wasn't commenting directly on his exchange with Ramaswamy.
"I don't believe in platforming liars and bigots, insurrectionists and election deniers and putting them on the same footing as people who are telling the truth; people who are fighting for what's right, people who are abiding by the constitution," Lemon said. "I think that would be a dereliction of journalistic duty to do those sorts of things."
Lemon sat down with WATN more than two weeks after the network removed CEO Chris Licht who terminated Lemon. According to CNN, Licht had a "tumultuous" one-year tenure of layoffs, reduced profits, low ratings and declining employee morale.
Looking ahead, Lemon said he's in no rush to make his next move.
"I'm not going to force anything," he said. I'm not going to let other people's timeline influence me. I know people say, 'I miss you on television. What is your next move?' I'm figuring that out. I don't have to be in a rush. I think people rush and they end up making the wrong the decisions."