Don Lemon Taken Off CNN's Monday Lineup Over Sexist Remark Made On Air
The anchor's future on the show is currently being discussed.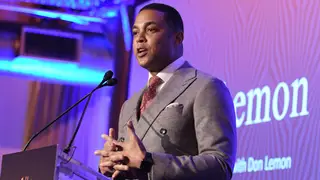 Don Lemon did not make his appearance on CNN This Morning as his future with the show is being discussed among the higher ups at the network.
According to the Daily Beast, the high-profile anchor, who was forced to make an apology to CNN staffers on Friday (February 17) after making offensive remarks about women and aging, was scheduled to anchor This Morning alongside co-host Poppy Harlow and Kaitlan Collins.
That changed though on Sunday afternoon after a new on-air lineup schedule was sent out by CNN management revealing that the show would be anchored on Monday by Harlow and Sara Sidner in New York and Collins in Poland.
"There are ongoing conversations about Don's future," a source told the Daily Beast. "He is a constant distraction."
On Friday, CNN CEO Chris Licht condemned Lemon's remarks about Republican Presidential candidate Nikki Haley, 51. Lemon's assertion that Haley was "past her prime", left him "disappointed," Licht said.
"His remarks were upsetting, unacceptable, and unfair to his co-hosts, and ultimately a huge distraction to the great work of this organization," Licht told staffers during a Monday editorial call."
"I'm sorry. I didn't mean to hurt anyone. I did not mean to offend anyone," Lemon added via the call.
Don Lemon, who was in Miami with his husband over the weekend, did not appear on Friday's show as he had a scheduled day off.