Rising UK Singer Mahalia Is Ready To Join The R&B Ranks
Recently, she was a headliner for Afropunk Brooklyn and her single, "Sober," was featured on HBO's "Insecure."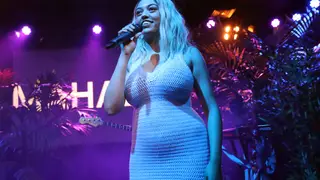 For decades, the U.K. has played a substantial role in breeding R&B phenoms: Sade, Marsha Ambrosius, Craig David, Amy Winehouse, Jessie J, and Corinne Bailey Rae all paved for the way for newbies like Ella Mai, Jorja Smith, and NAO. Now, up-and-coming soulstress Mahalia is ready to claim her spot like that of her namesake, Mahalia Jackson, even saying that "prancing around with this name carries weight." Hailing from Leicester, England, the half-Jamaican, half-Irish 20-year-old has been Atlantic Records' best-kept secret.
Upon being signed at age 13, the label took genuine interest in molding her as an artist and truly cultivating her sound, which she describes as a cross between "wooziness of Erykah Badu and the vibe of Amy Winehouse's 'Frank.'" However, her latest R&B ballads like "No Reply" and "I Wish I Missed My Ex" are a smooth transition from the spoken-word acoustic pop from her earlier projects, Diary of Me and Never Change.
Mahalia caught the attention of U.S. fans when the COLORS-acoustic version of her sultry single, "Sober" went viral. The song isn't simply an anthem for drunk texting. It's more of a wakeup call––one that took her six months to write. "I was just really hurting, like I was super hurting," she explained. "I was just in pain and I was so angry at him, but also so in love with him. So when I was writing 'Sober,' it was me tryna say to myself, 'no.' I take it back. I'm taking back everything that I said. I don't want you anymore. I'm still feeling hungover. I'm still feeling this love mess, but the point is that I don't want you anymore. And it was really hard to write."
These days, with the help of her latest single, "I Wish I Missed My Ex," Mahalia will be touring soon, having just wrapped up as one of the headliners at the Afropunk festival in Brooklyn. Growing up in a predominately white town didn't allow Mahalia to truly channel her Black side and now given the chance to perform for a predominately Black audience really excites her.
"I grew up in a really white town and I was never allowed to show my Black side," she said. "I waited so long to be accepted by the people in my school and then when I realized that they would never accept that side of me, I was like, 'OK.' I'm gonna go out and I'm gonna allow the world or people who want to accept that side of me." Mahalia was ecstatic to share a stage with the talents of Erykah Badu and Janelle Monae. As a place where Black artists and Black creativity is celebrated so much, she feels she won't find this feeling anywhere else, so it's fantastic to be playing this stage.
Aside from gearing up for her European tour, when she heads back into the studio, she hopes to collaborate with H.E.R., Daniel Caesar, SZA [whom she considers her spirit animal], some more distinguished artists like Angie Stone, and even fellow U.K. songbird Ella Mai, whom she relates in a host of ways. "I really hear what she's saying, like, as an artist, because I felt I was being ignored in the U.K. for a while and I think she felt like that," she notes. "I read an interview with her, I think in The Guardian recently where she said, 'If I had put "Boo'd Up" out in the U.K. first, it wouldn't have done so well.' And I totally hear that, and I think there's something really special about what she's doing here because it's just really beautiful to watch her grow."
The biggest difference in musical success between the U.S. and the U.K., according to Mahalia, is that "they categorize super easily and possibly for the wrong reasons."
"There's something about being in the U.S. that I always feel welcomed by everybody and I find that really amazing and I think here there's an ability to slot into a category but also do your own thing as well, and to kinda follow that but also be like, 'Hey I'm gonna do this.' Like, even with Ella and her new tune, 'Trip,' it's totally different to 'Boo'd Up,' but it's loved and I really love that here."
Ultimately, Mahalia wants to show the world that her authenticity will be how she stands out. "I used to look at Black artists as a kid and be like, how do I do that? How do I get my hair like Beyonce's? And that's why it's so important when I talk about the fact that I wear a wig and when I talk about my body––whatever I talk, I want people to understand that this is me being authentic with you and me being honest with you and I think it's really important, especially now. We're in a really sensitive time, and we're in a time where people aren't afraid to speak about it and I feel like that's really important."
This is her moment and she's fully ready to embrace all of this— without limitations. Check out her latest visual, "I Wish I Missed My Ex," below.