Jimmy Henchman Pleads Not Guilty
The embattled music exec is being held without bail.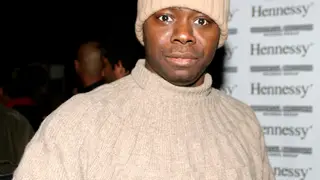 Jimmy "Henchman" Rosemond, on the run from federal authorities for just over one month, was arrested in New York yesterday (June 21) after being apprehended by federal agents. According to The New York Post, Rosemond attempted to flee after being identified exiting the W hotel in Union Square. He was pursued for several blocks before being captured and placed in handcuffs.
Taken to federal court, Rosemond, who has been a manager to Game, Akon, Brandy and Sean Kingston, plead not guilty to charges of "intentionally conspiring to distribute and possess with intent to distribute five kilograms or more of cocaine, witness tampering and obstruction of justice."
Whether the hip hop mogul will face charges in response to other allegations that have recently surfaced regarding his role in the 1994 shooting of Tupac Shakur and the 2007 slaying of a 50 Cent associate remains to be seen.
Rosemond is being held without bail.
(Photo: Johnny Nunez/WireImage)