Karrine Steffans Calls Out Rotimi on Miscarriage
Video Vixen author says singer abandoned her.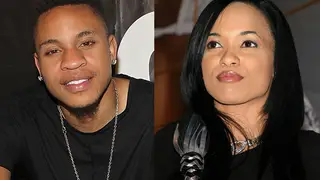 Karrine Steffans has more confessions.
The model/best-selling author called on the guidance of Dr. Martin Luther King, Jr. this weekend to admit that she's been "suffering everyday" since having a miscarriage, and she blames alleged baby father Rotimi for abandoning her in her time of need. 
"I've never in my life seen a man not ache over the loss of his own child until @rotimimusic," she wrote on Instagram alongside a pic of the "Do Me" singer. "I've never seen a man go on vacation while the mother of his dead child hurts so badly...or sing knowing he had a hand in stifling the breath of his own. The truth is a secret but the imagery is a lie and demons dance in the perfect light. But wait...there's more..."
In her next post, she uses a pic of MLK with the quote, "In the end we will remember not the words of our enemies, but the silence of our friends."
"I feel bad using Dr. King's image for this moment," she wrote, "but the words are just perfect. Losing a child is devastating. I've been suffering everyday since, and sinking into a manic depressive state. One minute, I'm way up and the next minute, I'm the lowest I've ever been."
Steffans goes on to describe how she refuses to take drugs for her mood swings and has instead opted for exercise, but "it's all temporary" she wrote. "The hardest part of it all has been not being able to talk about it, not being allowed to cry on the shoulder of the man who has been my best friend, my love, and my rock through so many other hardships. Suffering in silence is a death all its own. I don't know if anyone else has been through this ... It has destroyed me and what happens next is apropos. Pray for me."
The S.O.S. comes amid rumors that Lil Wayne was the father, which she denied in a VLAD TV interview last month. She says even speaking to Weezy right now wouldn't be "appropriate" for her relationship with her husband.
As for Rotimi, he certainly is focsued on singing. "Work doesn't stop!" he wrote on Instagram recently, along with a clip of his vocal skills.
See some of the IG posts below.
BET.com is your No. 1 source for Black celebrity news, photos, exclusive videos and all the latest in the world of hip hop and R&B music. 
(Photos from left: Bennett Raglin/Getty Images, David Livingston/Getty Images)