Too Far? Kim Zolciak Compares Marlon Wayans' Bad Joke About Her Face To #MeToo
The "Real Housewives of Atlanta" star isn't letting this go.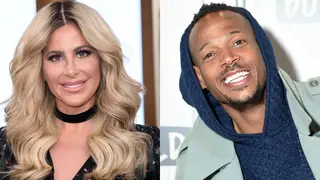 Kim Zolciak-Biermann isn't too pleased with Marlon Wayans at the moment, as the comedian recently took a jab at her surgically enhanced facial features, which were on full display during the recently aired Real Housewives of Atlanta reunion.
TMZ recently caught up with the reality star, who shared how disgusted she is by Wayans' comments and even went on to compare her struggle in this scenario to that of the sexual assault victims of the #MeToo movement.
The photographers caught up with Zolciak-Biermann and her husband, Kroy, at the airport and they didn't hold back when expressing their distaste for Wayans' words.
"It's disgusting," she said. "I think it's inappropriate that a grown a*s man in this #MeToo movement is, you know, knocking women. I think it's gross."
Her ex-NFL star hubby added, "I just think it's disappointing to men in general. Be a man... He's not being a man. Total coward move."
When asked if they give the White Chicks actor a pass since he's a comedian by trade, they stressed, "Nah, 'cause he's not funny."
Take a look at their full responses, below: