Next Town Down Debuts NTD TV Amid Tour Announcement
The new series from this budding R&B quintet offers fans a sneak peek into their lives.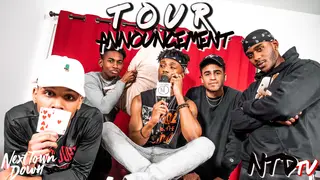 Leon Outlaw Jr., Malik Knighten, Terence Thomas, Tre'Von Waters and Chris Louis are gearing up for their 8-city tour beginning at the end of November and wrapping in early December with tickets are on sale now. In preparation for tour, NTD are also announcing a new segment: NTD TV.
Every episode, the guys will talk about a new topic and have some fun games or light-hearted "punishments" at the end. For today's premiere episode, (Sept. 28), the boys are sharing their first and favorite concert experiences with an amusing round of Slapjack at the end. Terence mentioned a hilarious reflection about his first Lil Wayne concert in Baton Rogue. Being a huge Wayne fan and experiencing that intensity in the sound booth gave him a faux panic attack. "Wayne put on like one of the best shows. I'm like Jesus! The music is literally just like beating in my chest."
Chris, coincidentally, was a first time concert attendee for a budding Chris Brown. Being a second-grader, his biggest fear was the R&B icon not doing a backflip, which he later admits that he did. Malik's first experience is bittersweet to reflect on because that concert headliner was the late Mac Miller. It was at a college in Iowa, despite him being in the eighth grade. Leon, though, has yet to truly experience a concert. The boys quickly reminded him that they're all going to see Canadian legend, Drake, so soon he'll be able to share that adventure with fans.
Tre'Von's sentiments about Chris Brown's FAME tour gets hilariously interrupted by the pizza guy. However, the quintet mentioned their favorite experience, that ultimately seemed to be the Drake vs. Wayne tour of 2014. Plus, they were fortunate enough to meet Drake after. Their goal for the NTD tour is to make their fans feel how they felt, aiming to connect with the audience in a trance-like state through the music. "It's the soundtrack to those people's lives. That's the energy we need."
This series is intended to change of pace from their usual videos and focus more on their lifestyle behind-the-scenes. If you're a diehard NTD fan, hit them up on social media and let them know what their next topic should be! Check out the first installment of NTD TV above.