Ex-Black P Stone Nation Gang Leader Jeff Fort Denied Chance for Freedom Through First Step Act
Fort has served almost 40 years in solitary confinement for conspiring to perform acts of domestic terrorism on behalf of a foreign government.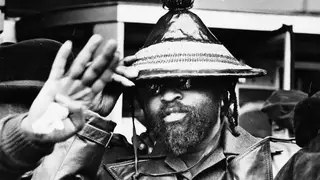 Jeff Fort, a co-founder of the infamous Black P Stone Rangers who has served almost 40 years in solitary confinement in a federal supermax prison, had his plea for leniency denied by a federal judge, the Chicago Sun-Times reported.
Earlier this year, Fort, also known as Abdul Malik Ka'bah, sent a handwritten request to U.S. District Judge John Tharp seeking to be released to a federal judge in Chicago under the First Step Act, which "allows sentences to be reduced for elderly or ill prisoners." Fort stated that his reason for wanting to end his prison sentence was due to age, illness, and a desire to spend time with his grandchildren.
"Given the length of time that defendant has been in custody, much of his immediate family is deceased (sic)," Fort's letter read. "Defendant wishes to take the time to rekindle his personal relationship with his children and forge a new relationship with his grandchildren who were born after his incarceration."
Tharp dismissed Fort's request, ruling that he deserved the 80-year sentence that he received 1986 following his conviction for offering to bomb buildings in the United States for former Libyan ruler Moammar Gaddafi in exchange for $2.5 Million. The charges against Fort and his associates were the first time American citizens were charged with plotting domestic acts of terrorism inside the U.S.
Fort attempted to execute the [??missing word here] while serving time for drug trafficking at a Texas federal prison.
Changing the name of the gang to El Rukn Tribe of the Moorish Science Temple in 1978, Fort claimed that that the gang was a religious organization following his conversion to Islam.
"Fort's willingness to kill indiscriminately and for profit mark him among the most dangerous of criminals — and as one for whom a sentence reduction is entirely inappropriate," Tharp wrote in his decision.
"That Fort has not been a disciplinary problem ... and has completed many classes offered to prisoners are positive developments, to be sure, but they fall well short of assuring that the ruthless El Rukn 'Imam' has morphed into a gentle grandpa who wants nothing more than to spend his remaining years with his grandchildren," Tharp's ruling continued.
Although she was not surprised by the judge's decision, Fort's daughter,  activist Ameena Matthews, is still determined to fight for her father's early release.
"My first priority is to reestablish communication with my father, to make sure that he is OK," Matthews said.
"COVID-19 restrictions, on top of already strict supermax security, have kept her from talking to her father since before the pandemic. "In his [latest] conversation with us," she said. "It was clear, he's in his right mind, and he's strong, and he's going to fight until the end to make sure that justice is on his side."
For the majority of his imprisonment, Fort has had limited human contact in solitary confinement in a maximum security prison in Florence, Colorado. Only recently has he been permitted to speak with his family and attorneys.
While Larry Hoover, the founder of the Gangster Disciples in Chicago has remained popular through his connection with rappers Drake, J. Prince, and  Kanye West, Fort's  name has largely faded, the Sun-Times says, and he has had difficulty getting attorneys to take his case (Hoover is also incarcerated in the same facility as Fort in Florence, Col.).
Since the implementation of the First Step Act, the law sought to reduce prison time for nonviolent drug offenders who received harsh sentences during the height of the War On Drugs during the 1980s and '90s. But since Fort was found guilty of conspiring terrorism against the country, his case continues to face an almost insurmountable barrier, according to Richard Kling, an IIT-Kent Law School professor who has represented clients who were affiliated with El Rukns.
"I don't think that (the public perception of terror bombings) is going to change any time soon," said Kling. "Some people they will never let out because of who they are and what they did."
"Jeff Fort may be one of those people," he added.