Michigan Lt. Gov. Garlin Gilchrist Has A Vision For Criminal Justice Reform, And Explains How He'll See It Through
The state's first Black lieutenant governor helped to spearhead Michigan's Clean Slate Law to help low-level offenders.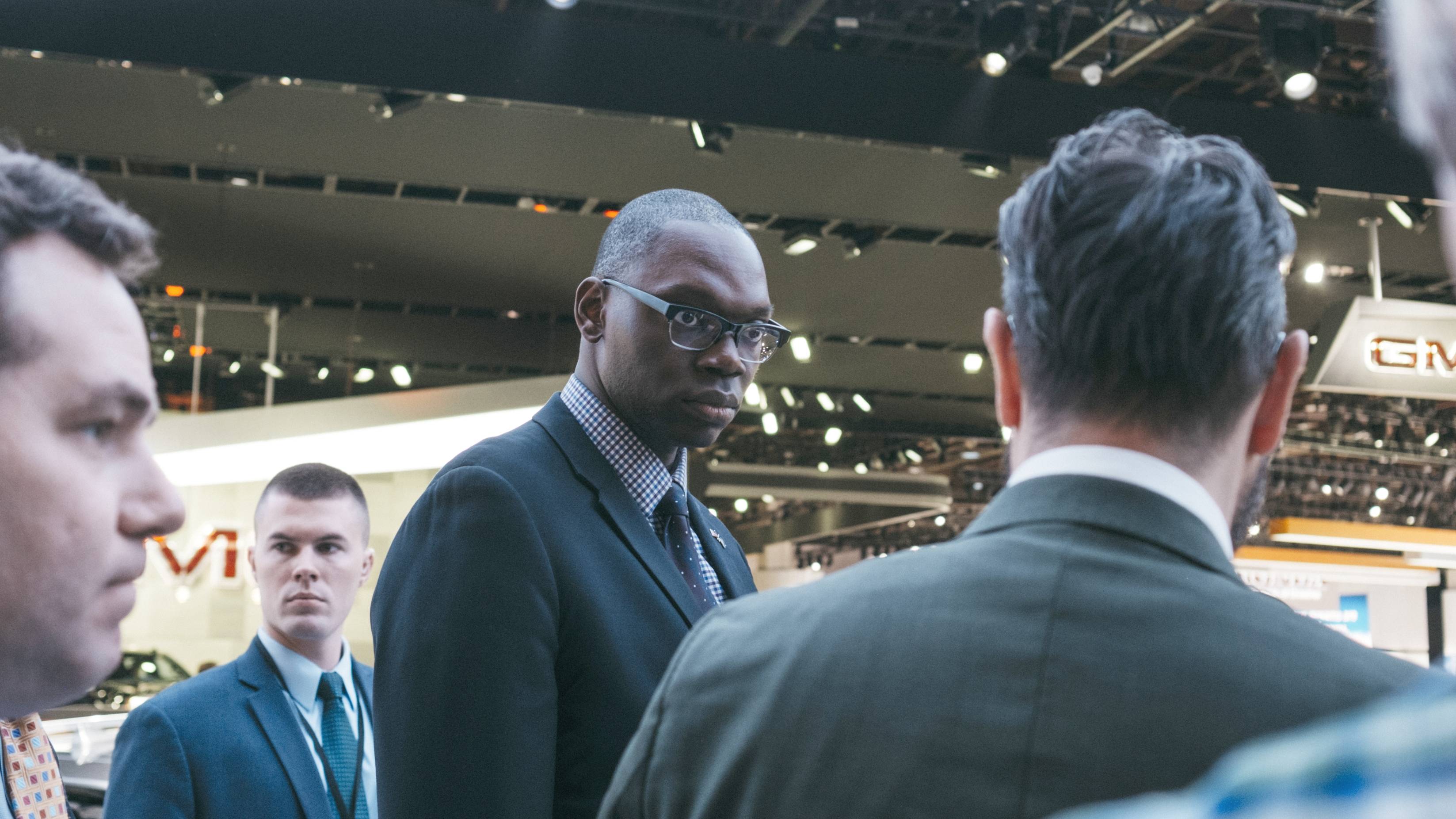 Michigan Lt. Gov. Garlin Gilchrist II is looked at as a Democratic Party rising star, but he's an unlikely one.  

He graduated from the University of Michigan and was a software engineer at Microsoft before entering politics. He went on to work as a social entrepreneur and community organizer where built systems that made the government more effective for local citizens.

But having grown up on Detroit's East Side, he saw first hand the need to transform the state's criminal justice system and create more opportunities to thrive.
One of just three first Black lieutenant governors in the country (the others are Austin Davis in Pennsylvania and Sheila Oliver in New Jersey), Gilchrist, 40, is working closely with Gov. Gretchen Whitmer to implement an innovative agenda for the state that uplifts its most vulnerable citizens. He co-chaired the Michigan Joint Task Force on Jail and Pretrial Incarceration and led the Coronavirus Task Force on Racial Disparities making Michigan the only state to create a task force to examine the effects of Covid-19 on its Black citizens.
A key legislative piece that he helped oversee is the Clean Slate Law which expunges old criminal records for people who have remained crime-free for years. Michigan holds the distinction of being the first state in the country to automatically expunge "certain non-violent, low-level felony offenses." The vision behind the law is to help people reconnect with their families,  find good-paying jobs, affordable places to live, and contribute to society.
Since the passage of the bill, more than one million Michiganders have had their records
expunged and they are now eligible for housing, jobs, and educational opportunities. Gilchrist believes that implementing Clean Slate across the nation would help level the playing field for Black Americans and other marginalized groups who are disproportionately affected by the criminal justice system.
BET.com spoke with Gilchrist about how he entered public service, the inspiration behind the Clean Slate Law, and why state governments should actively address criminal justice reform.
BET.com: What inspired you to work with formerly incarcerated citizens of Michigan and to develop this kind of legislation?
Gilchrist: It's because I'm a Black man who has way too many people in my life who have been impacted by the justice system.  Whether it's bad encounters with the police, which include my personal experiences, or knowing people who have been locked up for longer than they should have. That's something that's been on my mind and heart even before I was in public service.
Coming into the office and leading the work on criminal justice reform, from the administration's perspective, I started to look at how we could reform our jail system in Michigan to make sure that fewer people come into contact with the system in the first place. If they are in contact with the system, they should be treated with dignity. I believe they should be positioned for success once they are finished with that system.
BET.com: Before the Clean Slate Law was enacted, when did you notice that the systems in place created barriers for expungement candidates?
Gilchrist: When we looked at the numbers, Michigan had a process for people to be able to clear their criminal records after a certain amount of time for eligible nonviolent offenses. Only six or 7% of eligible people actually did it because it was expensive and it took a long time. Also, people didn't know that these offenses they had were even eligible for expungement in the first place.
So the way I looked at that was if you've already repaid your debt to society, you have been held accountable for what happened or the mistake that you made, you should be able to get a job or to get a home, when to get an apartment, to be reconnected with your family members to go to school, or to get a loan.
You should be able to do these things and not have this mistake that you've already paid for. hold you back. So the idea behind Clean Slate is that we should automatically deliver justice to people is what inspired me.  I thought of myself as an engineer. I knew that we could do the work on the back end to connect the data systems from the court systems,  the jail system, and all that that could ultimately just lead to a point where when your time came when you were eligible, justice should be yours.
BET.com: Were you surprised that the legislation received bipartisan support?
Gilchrist: I was not surprised because the justice system negatively impacted the people across the state of Michigan. We're in the biggest state, East of the Mississippi River and I've been to all 83 counties. In every place that I go, I met families who were negatively impacted by the criminal justice system. They couldn't get a job because they had this prior offense or they couldn't see their kids which left families torn apart. This issue affected people from all over our state, from different walks of life. So this is exactly the kind of thing that shouldn't be bipartisan because it's a solution that positively impacts everyone.
This is about making people job eligible at a time when companies need to hire more folks. This helps people have access to the economy. And it also, you know, disproportionately helps the people that were hurt the most, you know, those who will people who are lower income, people of color black folks who have been disproportionately impacted by the criminal legal system in ways this provides them with a pathway to economic opportunity to prosperity to homeownership. This is going to help increase people's quality of life.
BET.com: Lastly, do you think that the Clean Slate Law could be a blueprint for a federal law?
Gilchrist: So to give you some numbers on the impact thus since the law into effect in April of this year, over 1 million offenses have been cleared from people's records. Again, that's connected people to home housing opportunities, jobs, and education. It's a game-changer for people. Now, to your question about our Clean Slate law being a model for the country, it absolutely can be the way that we've implemented this. Of course, the laws would be slightly different in every state with different statutes that you need to look at and revisit franchise enabling legislation.
But the truth is, this principle applies everywhere, and it can apply everywhere. So whether that's looked at on a state-by-state basis, or whether it's something that could be worked into the federal system, I haven't done that type of analysis. But I do know that in our research, we looked at expungement programs in other states and drew inspiration from them. For Michigan to now leapfrog and be a leader in this mode, I hope other states will look at it and follow suit.