Charles Rangel Wins Hotly Contested Democratic Primary in New York
Charles Rangel won his most hotly contested re-election contest by overtaking three challengers in a Democratic primary that had garnered national attention.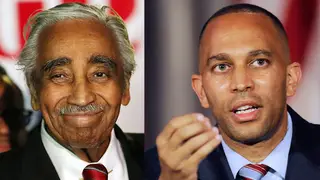 Charles Rangel and  Hakeem Jeffries (photos from left: Spencer Platt/Getty Images, REUTERS/Hans Pennink)

Rep. Charles Rangel, who was first elected to Congress to represent Harlem in 1970, won his most hotly contested reelection contest Tuesday night by overtaking four challengers in a Democratic primary that had garnered national attention.
Rangel overtook his closest challenger, New York State Sen. Adriano Espaillat, who sought to be the first Dominican-American congressman. As a result of redistricting, Rangel ran in a district that had been redrawn with a majority Latino population, causing many observers to suggest that the longtime congressman might not prevail this time.
But Rangel won a firm victory in a district where he represented many voters for the first time, an area that stretched from Northern Manhattan into the Bronx. In unofficial results, with 100 percent of the precincts reporting, Rangel received 45.7 percent of the vote, with Espaillat getting 39.1 percent, with the other candidates splitting the remainder.
"I'm just glad that my community has faith and confidence in me," said Rangel, 82, speaking to reporters at Sylvia's, the renowned Harlem restaurant.
Meanwhile, in another widely watched race in New York, voters elected by a huge margin Hakeem Jeffries, a state Assemblyman, as the Democratic candidate to succeed retiring veteran Congressman Edolphus Towns. Jeffries, a former corporate lawyer, defeated New York City Councilman Charles Barron in a closely watched primary in Brooklyn.
Jeffries had outpaced Barron in fundraising and endorsements. But still many expected Barron to do well because he was endorsed by Towns. But in the end, Barron was harshly criticized by some because of inflammatory statements he has made that were critical of Israel and Jews. (Barron also had an unlikely endorsement from former Ku Klux Klan wizard David Duke.)
With 94 percent of precincts reporting, the Associated Press stated that Jeffries led with 72 percent of the vote to Barron's 28 percent.
Jeffries, in an acceptance speech attended by a wide array of New York Democratic officials, thanked the voters and said his victory was a reflection of "a wonderful coalition across the entire district."
Rangel's victory came after an absorbing campaign for a seat in Congress that had been at the center of New York's Black political power, stretching back to the days when Adam Clayton Powell Jr. represented the district.
Meanwhike, Rangel's ethics issues in recent years — he was forced to step down as chairman of the House Ways and Means Committee in 2010 — coupled with demographic changes in the recrafted district made the congressman appear especially vulnerable.
In his victory speech, Rangel took issue with New York's newspapers, each of which endorsed one of his opponents. "If they didn't think after 42 years that I was the best qualified," he said, "I promise them that in the next two years they'll have no question about the fact that we elected the best."
BET Politics - Your source for the latest news, photos and videos illuminating key issues and personalities in African-American political life, plus commentary from some of our liveliest voices. Click here to subscribe to our newsletter.