Vulnerable Communities of Color Threatened By 'Hazardous' NYC Air Quality
A study shows that low-income and communities of color are regularly exposed to pollution.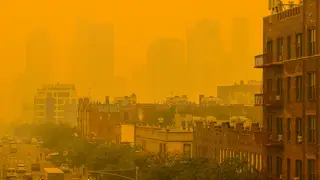 New York officials warned residents Thursday (June 8) to avoid going outside over health concerns from Canadian wildfires that continued to blanket the area, likely posing a higher threat to Black, Latino and other vulnerable communities  across the city.
"I think we're going to see this go on for another day or two. If you can stay inside, that's the best bet. If you do have to go outside -- I have my N95 on me. I, quite frankly, encourage people to have theirs. Any mask will do. Use the best mask you can," New York State Acting Health Commissioner Dr. James McDonald said in his update on conditions, according to CBS New York.
On Wednesday (June 7), the conditions earned New York the enviable distinction of having the most polluted air of any city in the world, The New York Post reported. The air quality index peaked that afternoon at 405 out of 500, far surpassing the previous record of 279 in July 1981. An AQI above 300 is considered "hazardous."
Dangerous levels of air pollution is a threat particularly in low-income areas and communities of color, where people – under normal conditions – are exposed disproportionately to higher levels of dangerous fine particulate air pollution than other groups, according to research released in 2022 from Harvard T.H. Chan School of Public Health.
The study, published in the journal Nature, was not the first to show that poor, Black, Latino and Asian Americans are at higher risk of premature death from exposure to PM2.5 air pollution.
But it took a deeper dive into the issue of exposure by focusing on relative disparities across income and racial/ethnic groups. Data was analyzed for the nation's 32,000 zip code tabulation areas as researchers linked demographic data from the U.S. Census Bureau and American Community Survey from 2000 to 2016.
"Our findings regarding relative disparities indicate the importance of strong, targeted air-pollution-reduction strategies, not only to reduce overall air-pollution levels but also to move closer toward the EPA's aim to provide all people with the same degree of protection from environmental hazards," said Abdulrahman Jbaily, a co-author of the study.