#BrothersforLorettaLynch Rally Lawmakers to Support AG Nominee
Black men from around the nation lobby for Loretta Lynch.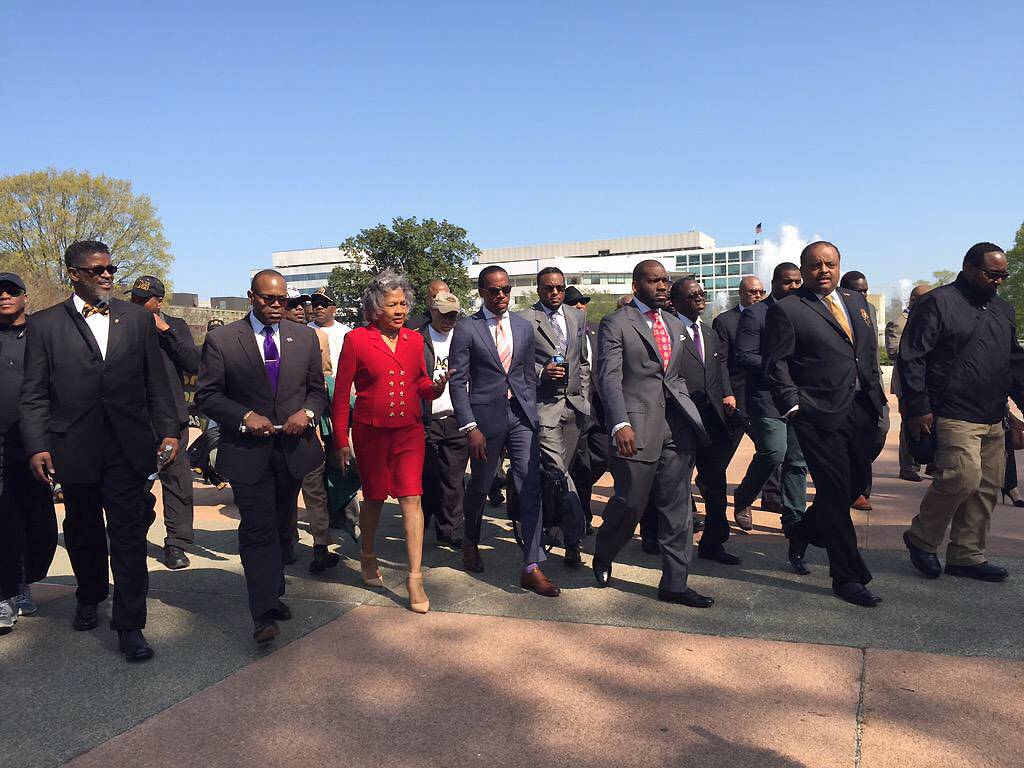 At first blush, a group of African-American men rallying on Capitol Hill Wednesday morning for a vote to confirm Loretta Lynch as the next U.S. attorney general seemed rather a moot point. After all, Senate leaders had brokered a bipartisan deal on Tuesday to move forward on an unrelated human trafficking bill that had been the holdup and the confirmation vote was expected to be held on Thursday.
As it turns out, the group of approximately two dozen men, organized by Baltimore minister Jamal Bryant and journalists Jeff Johnson and Roland Martin, had a broader agenda. In part, they were following the lead of the scores of Black women who've lobbied on Lynch's behalf, from her Delta Sigma Theta sorors who turned out en masse at her confirmation hearing, to the civil rights and faith leaders who've been pushing and publically praying for a vote.

But these men--members of clergy, 100 Black Men of America, and the Alpha Phi Alpha and Omega Psi Phi fraternities--wanted lawmakers to know they care about issues and policy, too. The Wednesday trip to Capitol Hill, they pledged, was the first of what will be monthly visits to meet with lawmakers and attend congressional hearings.

"So often, Black men are not seen as citizens walking through these halls in numbers. And we thought it was necessary not just today, but ongoing, that we're not just getting Black men to register to vote and we're not just trying to mobilize black men on Election Day, but there's a governing process that we have to be a part of," said Johnson, a BET News contributor. "And that means on a monthly basis, we want to see black men walking through these halls, visiting their representatives, pushing for the issues that they care about and not just being heavily involved in the election process but in the accountability process."
But for that day, their focus was building support for Lynch. The men, who were joined by Reps. Andre Carson (D-Indiana) and Joyce Beatty (D-Ohio), sought to meet with Senate Majority Leader Mitch McConnell and GOP senators from states with large black populations and are undecided, including Sens. Tim Scott (South Carolina), John Cornyn (Texas), Thad Cochran (Mississippi) and Rob Portman (Ohio).
They also would like to see Lynch receive more than the 51 votes required for confirmation. She is "beyond qualified," Martin noted, and many lawmakers have already voted twice to confirm her, including for her current position as a United States attorney for the Eastern District of New York. If confirmed, she will make history as the first African-American woman to serve as the nation's lawyer and top cop.

"There's a practical message and a principled one and the practical message is if she gets in by one vote, we still have the right attorney general in office. If she gets by [with] more, it's saying that a Senate that in some cases has been on the other side of the politics, recognizes that this is a qualified representative and it says where this Congress is going," said Johnson, a former host at BET and one of the leaders of the group. "If she gets by by more than one two, three or four votes it says 'Wait a minute, maybe there's hope for this Senate.'"
BET Politics - Your source for the latest news, photos and videos illuminating key issues and personalities in African-American political life, plus commentary from some of our liveliest voices. Click here to subscribe to our newsletter.